Upcoming Events
WinterFest: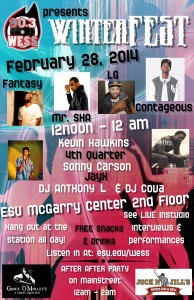 Friday Feb.28th.  Open door meet and greet for artists & their fans at the Shawnee Quad 12noon to 12midnight.
Free food & beverages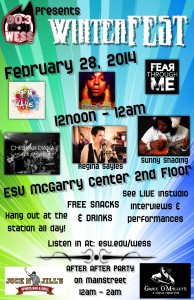 SpringJam II:
Friday, April 25th
More details to come soon.
Summer Shutdown:
An end of semester combined Zumba event with the ESU Athletic Dept. & the YMCA on the ESU track. Completed with a dance music after party with the WESS DJs and invited guest DJs also on the ESU track.
The date for Summer Shutdown is TBA