Art + Geometry = Colorful 3D Math Sculptures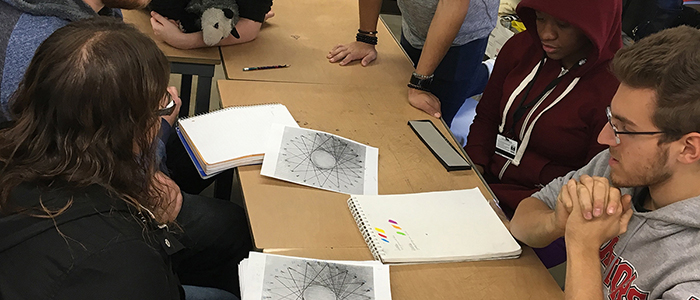 Posted by: admin on November 9, 2016, No Comments
This event has been postponed to Monday, November 14 due to rain.
Photo caption: Mathematics and Art + Design students at ESU plan their designs for "Calculating Art," a 3D project to be installed on campus Wednesday, November 9.
Art and geometry will intersect in a huge, colorful way at East Stroudsburg University of Pennsylvania Wednesday, November 9 as students create giant string art circles with geometric shapes using colorful surveyor's tape and wooden stakes at two outdoor locations on campus.
In a project called "Calculating Art," ESU math and art students will install four circles, each 20 to 30 feet in diameter, 11 a.m.-3 p.m. Wednesday in front of the Hoeffner Science and Technology Center and behind Koehler Fieldhouse, both accessible from Normal Street. They'll use mathematical calculations to figure out how long each piece of tape must be and where the stakes go to create patterns and shapes within the circles similar to those found in string art or the children's toy Spirograph.
"It's kind of a giant outdoor 3D math sculpture," said Pat Pinciotti, Ed.D., professor emerita of early childhood and elementary education, who is organizing the project with Jonathan Keiter, Ph.D., assistant professor of mathematics, and David Mazure, associate professor of art + design.
"We'll create a circle with a radius of about 15 feet," Keiter said. "We'll divide that circle up into 30 points, we'll put stakes in the ground at those 30 points around the circle, and then the string will be run straight to different points on that circle to create a pattern. So it's a string art pattern."
Two of the shapes will be in blue, green and purple and two will be yellow, orange and red.
Pinciotti is co-founder of ESU's C.R.E.A.T.E Lab, which invites members of the campus community across academic disciplines to experiment with art, science and technology to expand their thinking and connections to creativity.
The Calculating Art project ties in with the novel "The Circle" by Dave Eggers, which was chosen for the university's One Book, One Campus program this year. Students, faculty, staff and members of the community were encouraged to read the book and take part in discussion groups on campus and around the area this fall.
With that in mind, the C.R.E.A.T.E Lab's "provocation" or big idea this fall is "Circles: Spheres of Influence."
"How does one circle or one person's circle influence another circle, an idea, a person, an object, an experience?" Pinciotti explained.
The disciplines of art and math might not seem to have much in common but Keiter says that's a relatively recent – and flawed – perception.
"It's a modern way of thinking about different disciplines, that math and art are separate. That division didn't exist for most of history," Keiter said. "There is a lot of mathematics in art and I think a lot of mathematicians think of themselves as artists in terms of creating proofs and thinking about numbers. So there's a strong connection between art and mathematics and there always has been."
In preparing for the project, the upper-level geometry students collaborated well with the freshman art and design students to come up with interesting, intersecting circles that reflect the "Spheres of Influence" idea, Mazure said.
"We wanted to show circles of influence from the two different groups intersecting in a creative, interesting way," he said.
Mazure sees the project as a way to drive home to students "the influence of other disciplines in art."
"That's why it's important to get a liberal arts education, especially for artists," he said. "It also shows the importance of math in the art process. With my design classes I always bring it up: 'Look, math is important.'"
Pinciotti got the idea for the project from a librarian in Winnetka, Ill. named Todd Burleson, who worked with a local public school to teach students about geometry concepts using colored string tied to wooden stakes in shapes that created 3D designs.
Many of the students in Keiter's Modern Geometry class are on track to become math teachers and these types of projects will help them educate their future students, Keiter said.
The C.R.E.A.T.E. Lab — which stands for Connect, Realize, Engage, Attend, Transform and Expand — opened in Room 107 of Stroud Hall in 2013 and has had thousands of visitors who come to create their own artwork.
Students, faculty, staff and others use the lab as part of a class or just on a drop-in basis to work on their own projects with materials supplied by the lab.
For more information, contact jkeiter@esu.edu or esucreatelab@gmail.com.
---
---