Calling all Marine Science Consortium Alumni
The Marine Science Consortium (MSC) at Wallops Island, Va., celebrates its 45th anniversary this year, and is looking to reconnect with past students in anticipation of its first Alumni and Friends Weekend this fall.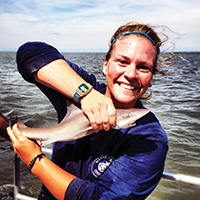 ESU is a member of the consortium, which provides students in marine science and related disciplines with access to a marine station for field trips, summer courses, and research. Over the years, hundreds of thousands of people have connected with the ecology of the Mid-Atlantic coast through college courses, school field trips, and summer camps at the MSC.
Now, as MSC plans its first reunion weekend for October 26-27, it is collecting contact information for former students so alumni can be kept up to date about activities.
"MSC has lost a lot of its history over these 45 years," says Parker. "We are hoping to regain our stories by bringing together the people who made them. But we need to find these folks, first."
Today the MSC experience is better than ever, due to a $15 million project that revitalized the campus. Gone are many of the World War II-era buildings, replaced by modern dormitories and operations buildings, and an environmentally friendly Education Center that contains modern labs, classrooms, aquaria, and administration offices.
"Many visiting alumni have remarked that they barely recognize the campus now," says Executive Director Amber Parker.
"However, our main job is to get people out into the field, so they can experience our ecosystems firsthand," she said. "I know I'm doing my job when no one is on campus because they are in the marsh, on the boats, or exploring a maritime forest."
---
---