Campus Activity Board Invites Community to Magic Show at ESU
The Campus Activity Board (CAB) of East Stroudsburg University of Pennsylvania invites members of the community to The Extreme Magic of Eric Wilzig on Friday, March 31 at 8 p.m. in the Abeloff Center for Performing Arts.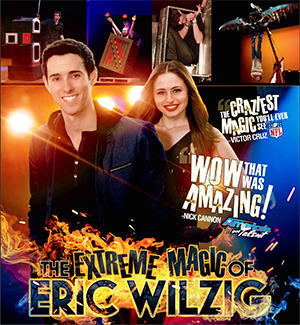 Wilzig learned directly from masters of illusion in Las Vegas. He performed as a headline act in Times Square, to sold-out crowds in Atlantic City, and on NBC's "America's Got Talent." Now he's taking his show on the road, with a stop at ESU.
"We're excited to bring The Extreme Magic of Eric Wilzig to campus," says Jessica Fuller, executive board member of CAB. "It's going to be a fun night to bring the campus and local communities together for a fun family-friendly show." The magic show is open to all ages and free to the public. Doors will open at 7:30 p.m. There will be a meet and greet with Wilzig immediately following the performance.
To learn more about The Extreme Magic of Eric Wilzig visit extrememagicoferic.com or contact Chris Bello, assistant director of student engagement, at 570-422-3055 or email cbello@esu.edu.
---
---