Crystal Street Businesses Help Raise Almost $2,000 for ESU's Theatre Department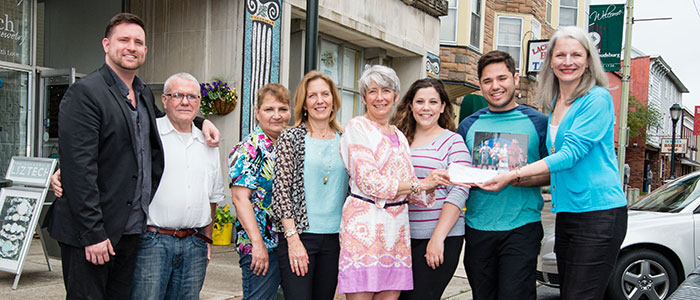 Photo Caption: Pictured from left to right are: Mike Tepedino, owner of Trackside Station Grill & Bar; Scott MacLaren, co-owner of Liztech; Linda Ruocco of Dansbury Diner; Deanna Jones, manager of The Gallery at Liztech; Jill Elizabeth, co-owner of Liztech; Rebecca Regina, a junior from Rutherford, N.J., majoring in theatre, who played the wicked witch; Michael Lloret, a junior from Shawnee on Delaware, Pa., majoring in theatre who played the scarecrow; and The Wizard of Oz director Margaret Ball, D.M.A., ESU associate professor of theatre.
Thanks to fundraising initiatives, three businesses on Crystal Street in East Stroudsburg — Liztech, Dansbury Diner and Trackside Station Grill & Bar — presented members of East Stroudsburg University of Pennsylvania's theatre department with a check for $1,832.19 recently.
With any pin purchased from The Wizard of Oz collection from April 21-27, Liztech donated 50 percent of those sales (minus sales tax) to ESU's theatre department. In addition, Liztech gave theatre students coupons to be distributed and used during the month of April.  Any coupon purchases made at Liztech, Trackside or Dansbury Diner during this time resulted in those businesses donating 10 percent of sales to the theatre department.
"The amount of money we raised was wonderful," said The Wizard of Oz director Margaret Ball, D.M.A., ESU associate professor of theatre. "What helped us even more than the money was the incredible support we got from everyone on Crystal Street. Having our posters, table toppers and handouts really helped get us the audience support we have rarely had before."
---
---