East Stroudsburg University Gets Huge Response to Community Youth Track and Field Program
When East Stroudsburg University of Pennsylvania (ESU) initiated a youth track and field program earlier this month, organizers expected about 70 kids from the community to take part.  Instead, 243 children ages 6-12 came to run, throw the shot put, practice the long jump and high jump and learn other events at Eiler-Martin Stadium on ESU's campus.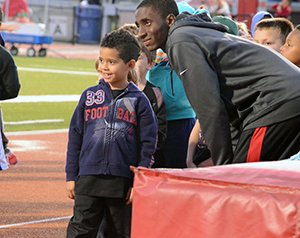 "We are just thrilled with the response," said Chris Merli, ESU track and field coach. "Obviously there's a bigger need out there than we were aware of. The nice thing about track is everybody gets to do something, you're not on the sidelines."
The program runs 6:30-8 p.m. every Monday through Oct. 21 and will culminate in a track meet Friday, Oct. 25 at the stadium. Working with ESU coaches and about 25 student-athletes, the children learn the basics of sprinting and distance running, small hurdles, long jump, high jump, shot put and Turbo Jav, which is a special type of javelin that is safe for kids. The $50 fee for the program will help fund financial aid for university students.
"This is a great opportunity for children from the community to be introduced to the Olympic sport of track and field and receive coaching with an emphasis on fun and safe technique," said Dr. Doreen M. Tobin, ESU vice president for student affairs. "Plus it's great for our student athletes who get valuable experience working with kids and benefit from the proceeds which go toward scholarships."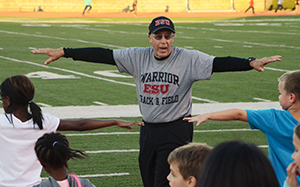 "Because of the huge number of kids coming out, registration for this session is closed. But ESU plans to have another youth track meet over the holidays in December and to expand the program to include summer sessions for kids," Merli said. 
"It's really a great experience for kids to be out and be active," said Sarah Goodrich, ESU manager for conference services. "I always think kids are going to get the most out of an experience if they have fun doing it."
The program was the brainchild of Kelly Weaber, who works in residence life at ESU. She was searching for a youth track and field program for her two young sons but found nothing in the area. Weaber talked to Merli and the other track coaches who were enthusiastic about the idea. Weaber and Assistant Track Coach Michele Frayne set it up and promoted the initiative in area school districts.
Weaber said she has since heard from other parents who are thrilled their children are getting the opportunity to participate. "It just proves how much this program was needed in this community," Weaber said.
For future youth track and field programs, see ESU's conference services at www4.esu.edu/about/offices/conference_services/community_outreach.cfm or call the Office of Conference Services at 570-422-3061.
---
---