East Stroudsburg University, Kutztown University Announce Formation of Procurement Collaborative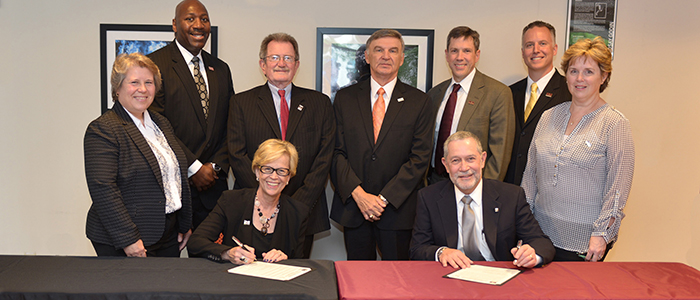 Attending today's NERPC signing event from left, front row, are: Patricia Reich, CPSM, C.P.M., ESU director of procurement and contracting; ESU President Marcia G. Welsh, Ph.D.; KU Acting President Dr. Carlos Vargas-Aburto, Ph.D.; and Barbara Reitz, KU purchasing manager. Back Row: Ken Long, ESU vice president of administration and finance; L. Patrick Ross '67, chair of ESU's Council of Trustees; Jack Wabby '68, chair of KU's Council of Trustees; Mr. Jerry Silberman, KU vice president for administration and finance, and Matt Delaney, KU acting assistant vice president for administration and finance.
East Stroudsburg University (ESU) and Kutztown University (KU), both member institutions of the State System of Higher Education, announced today the formation of the State System Northeast Regional Procurement Collaborative (NERPC), a shared procurement services division that will enable both universities to create efficiencies, economy of operations and cost savings opportunities to benefit each institution as well as the students they represent.
ESU President Marcia G. Welsh, Ph.D. and KU's Acting President Carlos Vargas-Aburto, Ph.D., signed the formal agreement to officially begin this collaboration earlier today at ESU's Lehigh Valley Center, 60 West Broad Street, Bethlehem. "The creation of this collaborative is just the beginning of potential partnerships between our two universities," said Welsh. "With the continued rising costs of higher education, this initiative is a great way to optimize resources we receive from the State. As public institutions serving the residents of the Commonwealth, ESU and KU must do all we can to make education both accessible and affordable to everyone who wants to earn a degree and get ahead in today's fast moving global economy."
"The State System Northeast Regional Procurement Collaborative is a true example of how two institutions can work together to optimize procurement efforts while realizing cost savings at many levels," said Dr. Carlos Vargas-Aburto, Kutztown University's acting president. "Our hope is that this will be just the first of many such arrangements as our universities consider the most economical approaches to conduct business."
Also on hand for the official announcement was: ESU Council of Trustees Chair, L. Patrick Ross '67; ESU Vice President for Administration and Finance, Mr. Ken Long; KU Vice President of Administration and Finance, Mr. Gerald Silberman; ESU Director of Procurement and Contracting, Ms. Patricia Reich, CPSM, C.P.M.; and KU Manager of Procurement Services, Barbara Reitz. The establishment of NERPC will require some leadership changes at ESU and KU. According to Long, Reich will be reassigned and become the director of the collaborative and Reitz will take on the role and responsibilities of the assistant director.
Reich came to ESU in 2013 and brings more than 22 years of experience in procurement to the NERPC. In her current position at ESU, Reich is responsible for overall leadership and management of procurement operations. Reich also held management positions relative to procurement and contracting with Lehigh University, Air Products and Chemicals, and GE Plastics, and has prior consortia experience as she was formerly the Director of Business Services for the Lehigh Valley Association of Independent Colleges (LVAIC).
Reitz began her career at KU in 1986 and brings 29 years of public procurement experience to NERPC. In her current position at KU, she is responsible for the overall management of the Procurement Services Office including public solicitations and bids for various commodities and contracts as well as the university's commercial credit card program. Her years at the university, and within the State System, bring a wealth of public procurement experience to the table.
"This new association will enable both ESU and KU to leverage technologies and allow us to optimize economics of scale for a number of our procurement and sourcing opportunities," added Long. "Over time, we anticipate cost savings of both goods and tangible services and we hope that our success with this procurement collaborative will provide us with a framework for further alliance in other administrative functions between the two institutions."
"We've still got some work to do; the collaborative is a work in progress," said KU's Silberman. "Procurement personnel at both institutions will be working hard through the summer and fall to review current procurement procedures, identify best practices at both ESU and KU that may be adapted for optimal performance of daily procurement operations, and gather and evaluate data from both universities to identify collaborative sourcing opportunities and establishing benchmarks for savings and successes."
According to Long and Silberman, the NERPC will be a continuously improving process with no end to the possibilities.
---
---
---