ESU Wins $4 million National Science Foundation Grant for Scholarships and Research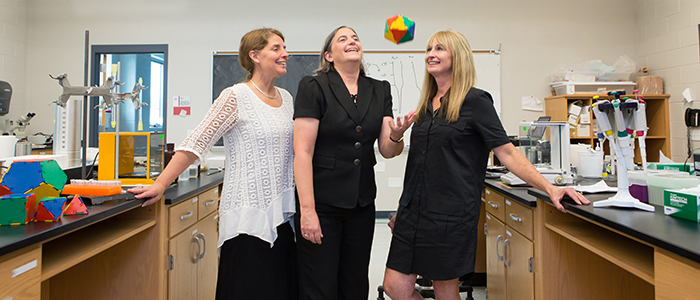 Posted by: Elizabeth Richardson on October 12, 2016, 3 Comments
In the largest single grant ever awarded to East Stroudsburg University, the National Science Foundation (NSF) is giving $4 million to help transfer students complete their education at ESU in the fields of science, technology and math.
The five-year grant for the project — dubbed Clear Path — provides scholarships for about 120 students who start their education at community colleges and transfer to ESU for bachelor's degrees in such fields as biochemistry, physics, computer science and mathematics.
The scholarships of up to $10,000 a year will be available for ESU students majoring in chemistry, biochemistry, biotechnology, chemical biotechnology, environmental science, marine science, physics, computer science, computer security and mathematics.
In addition to millions of dollars in scholarships, the grant supports invaluable science education research including mechanisms to ensure that students successfully complete their bachelor's degree.  Faculty associated with this grant expect that understanding how academic practices impact student success will shape future student support and be used to inform policies and practices at community colleges and four year institutions. This objective is also intended to positively impact the 120 students who receive the scholarships as well as future students who would benefit from this model.
"This significant grant award from the National Science Foundation is a tremendous accomplishment by Dr. Olivia Carducci, Dr. Bonnie Green and Dr. Michelle Jones-Wilson," said Joanne Bruno, J.D., provost and vice president for academic affairs at ESU. "The award reflects the professors' collective and individual commitment to recruiting and supporting students, including women and students of color who are often disenfranchised from pursuing a career in the sciences."
Scores of community college students going into STEM fields will be able to transfer to ESU and graduate on time with minimal debt, according to Provost Bruno.
The scholarships, which begin in the fall 2017 semester, will be need-based and merit-based, with students expected to maintain at least a 2.8 grade point average.
The Clear Path team will work with three partnering community colleges – Northampton, Lehigh Carbon, and Luzerne — to identify students who would be eligible for these scholarships. Those who fit the criteria can also get help with the cost of community college tuition. Students from other community colleges are eligible for the ESU scholarships but not for help on their community college tuition.
The grant is the culmination of more than three years of work by Drs. Green, Jones-Wilson and Carducci who saw that too many students from community colleges were transferring to the university with numerous college credits but not enough of the right courses in their major to enable them to graduate on time.
"I don't like it when I have to tell a student who brought in 100 credits that they need three years to finish their degree," said Jones-Wilson, associate professor of chemistry.
The professors did extensive research into why it was taking many transfer students in the sciences and mathematics several extra semesters to graduate and learned that often they hadn't taken the necessary prerequisites at community college.
"The sciences all build on top of each other," said Green, professor of psychology. "You can't take Calculus II until you take Calculus I. You have to have the requisite knowledge in order to move forward."
Often the students get the proper advice from their community college advisers but listen instead to recommendations from friends and family that sets them on a longer path to their degree and more student debt.
In talking to faculty at other colleges and universities, the Clear Path team discovered the problem was widespread. They plan to reach out to community college students to identify candidates for the scholarships and assign them ESU student mentors while they are still in community college.
Clear Path is also designed to help the students do better in their ESU classes so they gain the confidence and work ethic to be successful in their chosen careers.
To that end, the grant will also pay for ESU students to act as tutors and mentors as well as student data collectors so the professors can analyze how Clear Path is working.
"It's not just about giving scholarships to the 120 students," Green said. "We're clearing the path for students who come after them."
"My hope is that we are going to establish a clear communication plan with the community colleges so that we can have a continual pipeline of students who are finishing their associates degrees," Jones-Wilson said. "They will be able to go from an associates degree to a bachelor's with as little debt as possible."
The professors had heard the odds were very low of their grant proposal being funded the first time they submitted it to the National Science Foundation.
"When you're applying for an NSF grant, your chances of being funded the first time out is somewhere around 7 percent and that's if you're coming from a big-name university," Jones-Wilson said. She learned from experts that on average it takes between three and nine revised submissions to be successful.
So the professors were elated when they got word their project was funded on their initial submission.
Green said they received terrific support from Provost Bruno and from Peter Hawkes, Ph.D., dean of the College of Arts and Sciences, who supported their attendance at conferences to hone their grant-writing skills.
"Having them in our corner made all the difference in the world," Green said.
The Clear Path team plans to thoroughly document the results of the project and share their findings in journal articles and at conferences as a way to further the field of STEM education.
Christina McDonald, manager of the Office of Sponsored Projects and Research, who worked with the professors for about a year on the grant submission, said the NSF actually gave them more money – a total of $4,039,527 — than they originally requested for the project.
McDonald said ESU has received some National Science Foundation grants in the past but this is the largest and she expects the benefits to go well beyond the scholarship students.
"It's a big deal for the region as well," McDonald said.
The ESU team says they persevered over three years on the grant submission, fueled by their passion for helping students.
"I love teaching at a state school and I know Bonnie and Michelle do as well," Carducci said. "We need to be here and support these students because they really want to improve their lives and we can assist in that. That's what this grant is all about."
---
---
---