ESU Announces Procedures, Details for Inclement Weather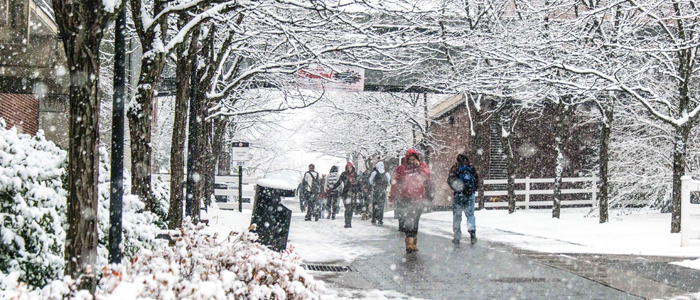 Posted by: admin on December 2, 2014, No Comments
In instances of severe weather this winter, East Stroudsburg University of Pennsylvania (ESU) reminds students, faculty and staff to tune in to the radio and television stations and websites listed below, or visit the ESU website for updated announcements regarding possible class cancelations, delays and/or university closings.
University decisions about cancelations or closings will be made by 6 a.m. concerning morning classes, 11 a.m. for afternoon classes and 2:30 p.m. for evening classes. Specific announcements are as follows:
Classes Delayed: University classes will start at a specific time. A delayed openinggenerally applies to the class schedule only, unless the announcement is accompanied with a "liberal leave" message. If there is no "liberal leave" announcement, employees should report to work. If there is a "liberal leave" announcement, employees should report to work as soon as they are able, but not later than the delayed opening period.
Classes Canceled: Classes are canceled but other activities and functions on campus continue as scheduled. Offices and services remain open but liberal leave for employees may be permitted.
Closed: If a national, state, local or other emergency is declared, the university may be closed and all university functions, including those on campus but sponsored by other organizations, may be canceled.
It is the intention of ESU to remain open even under severe conditions. In the event that extreme weather conditions or an unusual event significantly disrupts transportation or causes suspension or closure of university operations, the university sets forth the following definitions and guidelines.
Severe Weather: Defined as floods, hurricanes or significant snow and/or ice storms.
Liberal Leave: Applies to the time period employees are unable to get to work. Employees must utilize approved annual, personal or documented compensatory time for work missed if they choose to leave campus or not to report to work. The intent to use such leave must be reported and called in to the supervisor in accordance with university call-in procedures. Under conditions of liberal leave, all supervisors/department chairpersons will approve submitted leave, assuming leave is available.
Media to Monitor:
TV: WNEP-16, WBRE-28, WYOU-22, WFMZ-69, Blue Ridge TV-13
RADIO:
Monroe County: WSBG (93.5 FM),WESS (90.3 FM)
New Jersey: WHCY-MAX (106.3 FM), WSUS (102.3 FM), WNNJ (103.7 FM)
Wilkes-Barre / Scranton: WMGS (92.9 FM), WBSX (97.9 FM), WSJR (93.7 FM),
WBHT (97.1 FM), WKRZ (107.9, 98.5 FM), WGGY (101.3 FM), WDMT (102.3 FM), WARM (590 AM), WILK (980 AM, 103.1 FM)
Allentown / Easton: WLEV (100.7 FM), WODE (99.9 FM), WWYY (107.1 FM), WCTO (96.1 FM), WRFY (Y102 FM), WBYN (107.5 FM, 1160 AM), WAEB (B104 FM, 790AM), WRAW (1340 AM), WMGH (105.5 FM), WEEX (1230/1320 AM), WLSH (1410 AM).
Radio on the Web: WZZO.com (95.1 FM), B104.com (B104 FM), WAEB.com (790 AM), Fox1470.com (1470 AM), clearchanneltristate.com(WSUS 102.3 FM, WNNJ 103.7 FM, Max 106.3 FM).
WEB: esu.edu; poconorecord.com; wnep.com; pahomepage.com; wfmz.com; wsus1023.com, wzzo.com, FOX1470.com; readingeagle.com; and brctv13.com.
Weather announcements will also be posted on the front page of ESU's website at www.esu.edu as well as the university's Facebook page. Text messages and emails will be distributed to those who have signed up for the university's e2campus emergency notification system. To sign up, visit http://www4.esu.edu/emergency/text_alerts.cfm.
In addition, students may call the university at 570-422-3211 for updated information. Students having questions about individual class cancelations should call the faculty member or the department secretary directly. Contact campus police for emergencies only at 570-422-2000.
Pocket-size severe weather announcement cards are now available to all ESU students at: University Police in Hemlock Suites; the Student Information Desk in the University Center on Normal Street; and in the Office of Residence Life, Hemlock Suites. Specific questions and concerns about this information should be directed to the Office of University Relations, 570-422-3455.
---
---