ESU Annual Day Without Stress Brings Large Crowd of Students Faculty and Staff Together
Andrea Gurgick, an East Stroudsburg University of Pennsylvania junior from Telford, Pa., majoring in psychology, gives Chris Stokes, an ESU junior from Philadelphia, Pa., majoring in business management, a manicure as part of ESU Day Without Stress. Sultan Aminu, a freshman from Old Bridge, N.J., majoring in sport management, awaits his turn.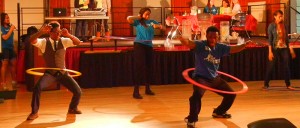 ESU students take part in a hula-hoop competition as part of ESU Day Without Stress in the Keystone Room on Thursday, May 1.
The Counseling and Psychological Services (CAPS) department at East Stroudsburg University of Pennsylvania and the student club, Active Minds, hosted its third annual ESU Day Without Stress on Thursday, May 1, in the Keystone Room.
The event drew approximately 1,200 students, faculty and staff members who had the opportunity to take part in stress-relieving activities that included acupuncture, massage therapy,   manicures, dancing, story writing, African drumming, Reiki, Zumba, self-hypnosis, meditation  and Tai Chi. Visitors also had the chance to interact with therapy dogs, play games and enjoy music and refreshments.
Professional practitioners and a local author also engaged students in a "Business Circle" to share the fundamentals of entrepreneurship and the road to establishing their own businesses.
From the local area, participants included award winning novelist Lilly Christine; licensed acupuncturists Beverly Gaglione, Ed.D., retired faculty member from ESU's nursing department, and David Gaglione from Stroudsburg, Pa; Judy Greig from The Mahoning Valley Drum Circle in Lehighton, Pa,; Kim Zuchlinski, certified massage therapist from Peace and Healing for Women in Stroudsburg, Pa.; Vyolet Albano, a Reiki master from Effort, Pa.; David Christine, a certified craniosacral therapist from East Stroudsburg, Pa.; and Itsy Sweeney from Holistic Health Services in Saylorsburg, Pa.
From Upper Mount Bethel, Pa., Joel and Naida Schwartz, who are therapy dog international trainers, arranged for the certified canines and their handlers to work two hours each.
ESU Day Without Stress was sponsored by Counseling and Psychological Services (CAPS), Active Minds, the Division of Student Affairs, University Health Services, and Health Education/Alcohol, Tobacco and Other Drug (AToD) Prevention.
In addition, CAPS was awarded funds from The Ben Franklin Technology Department Authority, Keystone Innovation Network Grant to support and infuse entrepreneurship across the colleges.
"ESU Day Without Stress has become very popular with students who look forward to this event every year," said Linda Van Meter, assistant professor of counseling and psychological services who is instrumental in organizing the annual event. "CAPS added several new features to introduce students to alternative ways to deal with stress during the week before final exams. Student leadership from Active Minds and Theta Chi Fraternity greatly contributed to the planning and implementation of this event. They provided student input that allowed us to create a bigger and better experience for all involved."
---
---