ESU Associate Professor to Edit International Book Series on Existentialism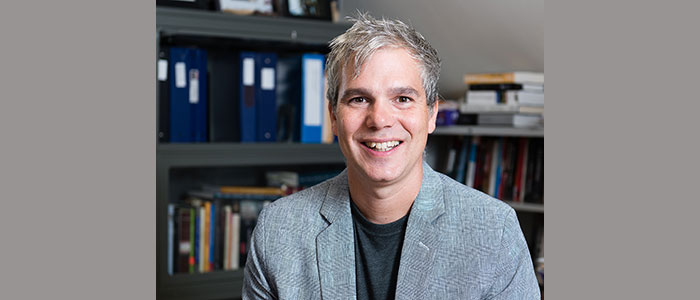 Posted by: Elizabeth Richardson on October 30, 2019, No Comments
Storm Heter, Ph.D., associate professor of modern languages, philosophy, and religion at East Stroudsburg University signed a contract with Rowman and Littlefield International (RLI) to edit a new book series on the topic of "Living Existentialism." The book series is set for publication in Spring of 2020.
According to Dr. Heter, the series will approach existentialism, a philosophy that emphasizes personal authenticity, lived experience, and political commitment, from a diverse, global perspective. "I am extremely excited to be part of this project because existentialism is a philosophy of freedom," Heter said. "It should empower people in every society and every generation. I hope this series will bring new voices into the conversation."
Heter first pitched the idea to Rowman and Littlefield, a major international academic publisher based in London, at the 2019 meeting of the North American Sartre Society (NASS), a group of which he is the current president. Heter is one of the scholars of NASS who is well known internationally for his expertise in existentialism and while president of NASS his mission was to promote diversity in philosophy. According to Heter, existentialism is "the philosophy of existence and its central contribution has been to explain the human condition" or what it means to be human.
"Existentialism is a philosophy of engagement, or action, and hence many topics in existentialism deal with immediate political realities especially racism, sexism, colonialism, domination and liberation," adds Heter. "With this book series, we now see our editorial role as one of fostering other scholars who want to make a global impact through their scholarship."
Heter also noted he will have two additional co-editors on this project, Dr. LaRose T. Parris, associate professor of Africana Studies at Lehman College, CUNY, Bronx, N.Y., and Dr. Devin Z. Shaw, professor of philosophy at Douglas College in British Columbia, Canada. The book series grew out of previous work by these co-editors, each having published influential books and/or peer reviewed articles on existentialism. As editors they will help to solicit new titles and projects, shepherd authors through the proposal and writing process and foster international conversations on the topic of existentialism. Dr. Heter and the other co-editors will represent RLI at philosophy conferences and identify philosophers or academic topics that should be addressed in the series and then pitch the idea to a commissioning editor for consideration. Last year, Dr. Heter traveled to Dakar (Senegal), London (England), Paris (France), and across the U.S. to build philosophical interest in existentialism.
Drs. Heter, Parris and Shaw intend to publish four or five titles a year in this series for the indefinite future. "Living Existentialism" will launch with the publication of the first book, A Philosophy of Antifascism: On Punching Nazis and White Supremacy," written by Dr. Shaw, will be released in April 2020.
While much of the past and current scholarly work focuses on existentialism in France and Germany, a goal of this series is to expand the scope of the discussion to new frontiers.  Classic Existentialism was born in Europe but, with his colleagues, he hopes to solicit work on existentialism in the Caribbean (especially Jamaica, Haiti, and Puerto Rico) and Africa (especially Senegal, South Africa, Nigeria, and Ghana.) The co-editors have already solicited work on topics including: Existentialism and Native American Thought, Existentialism and Indigenous Thought, Environmentalism, Japanese Existentialism, Mexican Existentialism, Arab Existentialism, African Existentialism, Caribbean Existentialism.
"We are extremely proud of Professor Heter's efforts," said Joanne Z. Bruno, J.D., provost and vice president for academic affairs at ESU. "This project is not only a major achievement for him personally but also shows the relevance of philosophy and the humanities to issues of social justice around the world. I am so pleased that a member of our ESU faculty is involved in this international initiative."
According to their website, Rowman and Littlefield is "a leading independent publisher, headquartered just outside of Washington, D.C. with strengths in academic publishing in the humanities and social sciences, publishing government and official data, and educational publishing. For more information regarding the book series "Living Existentialism," or to order an advanced copy of the series, contact rowman.com.
---
---