ESU Celebrates Founder's Day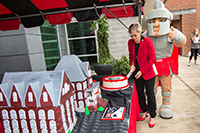 On Wednesday, September 12, East Stroudsburg University celebrated the 125th anniversary of the founding of the institute.
Students, faculty and staff celebrated Founder's Day with a performance from the Warrior Marching Band and the Musical Theatre Organization sang songs from each era of the school's history.
Students also sent post cards featuring old yearbook photos to their family and friends and gave suggestions of items to be placed in a time capsule. President Marcia G. Welsh, Ph.D., spoke of ESU's storied history and Amy Leiser, director of Monroe County Historical Society talked about the impact ESU has had on the community for the last 125 years.
Kitchen Chemistry provided a cake that was a replica of Stroud Hall, as it was when it was the first building on campus.
A photo album of ESU's Founder's Day celebration can be found here.
---
---