ESU First in Pennsylvania to Offer Innovative New J-1 Visa Program to Attract International Business to Region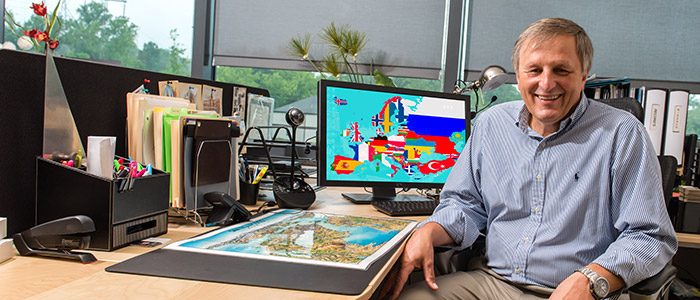 Posted by: admin on June 19, 2015, No Comments

International entrepreneurs with an eye on American markets will soon be able to take advantage of the East Stroudsburg University (ESU) Business Accelerator's resources under an innovative new visa program.
ESU is the first and only institution in Pennsylvania to offer a newly expanded J-1 Visa that now allows not only visiting scholars and researchers but also international entrepreneurs to come to the U.S. for up to five years to develop new businesses. The project was initiated by the French-American Chamber of Commerce, Philadelphia Chapter as a part of the Global Access PA soft landing program, in partnership with the Welcoming Center for New Pennsylvanians, the Pennsylvania Department of Community and Economic Development, and East Stroudsburg University of Pennsylvania.
"The East Stroudsburg University Business Accelerator is opening its doors to a global market that will provide exciting opportunities for international business development, innovative careers, internships for students, and engaging research opportunities throughout the region," says Marcia G. Welsh, Ph.D., President of East Stroudsburg University. "Further, ESU is situated in a unique location which enables international companies to have access to metropolitan businesses in New York and Philadelphia without incurring the high costs associated with urban areas."
The Business Accelerator Program, launched in 2001, was created to encourage economic development and build a diversified business base, particularly in northeastern Pennsylvania. The program encourages creativity and innovation, and provides a wealth of management and technical resources including access to ESU faculty expertise and student internships. The Business Accelerator is located in ESU's Innovation Center, a 51,000 sq. ft. facility dedicated to supporting innovation and entrepreneurship. Offices are available for start-up companies and wet-labs are available for biotechnology, advanced chemistry and other life science companies. Typically, businesses participate in the Business Accelerator Program for 3 to 5 years.
"I can't overstate the significance of this program," says Jonathan A. Grode, U.S. practice director with the Philadelphia-based immigration law firm of Green and Spiegel LLC and a board member of the French-American Chamber of Commerce, who provided pro bono services for the visa application process. "Creation of a new application for the J-1 Visa is filling a significant shortage." Grode notes that there were 233,000 petitions filed for just 85,000 H-1B Visas available for 2016.
According to Grode, options for international businesses have been in short supply for quite some time. The H-1B Visa is extremely limited in terms of numbers and the training/intern uses of the J-1 Visa can only be obtained for 18 and 12 months respectively. The E-2 Treaty Investor Visa requires a major financial commitment and is only available to certain nationalities. Because some foreign companies do not yet have fully developed ideas or venture capital, the new ESU J-1 Visa and the Business Accelerator provide "a soft business landing so foreign companies could have more of an organic way to develop their businesses without a major financial commitment," Grode says.
"East Stroudsburg University has amazing office and wet lab space," Grode notes, so the idea was born to find a way to affiliate the activities at the university with the international business activities of the French-American Chamber.
The seeds of the project were planted when the French-American Chamber of Commerce in Philadelphia was seeking start-up space for a French company and was introduced to ESU by Wilfred H. Muskens, deputy secretary for international business development at the Commonwealth's Department of Community and Economic Development.
"We selected ESU as the 'pilot location,' based on the Accelerator's track record of success and the strong research facilities and faculty, to approach the U.S. State Department to see if we could get permission to expand the use of ESU's J-1 Visiting scholar program and apply it to the business accelerator program. This permission is exclusive to ESU as far as I know," Grode says.
J-1 Visa program partner Blandine Chantepie-Kari, co-director, trade services, at the French-American Chamber of Commerce says "We loved what they were trying to do there," citing the ingenuity of the Business Accelerator with its space, equipment and professors. She says that both ESU's resources and location "are a tremendous asset. ESU is just 70 minutes from New York and the cost of living is lower. It's a perfect location."
Prospective businesses are expected to come from many different countries. While the French-American Chamber is connecting with French companies, it is also working with other international Chambers and networking with other countries. "ESU and its partners have met with advanced manufacturing and information technology companies from Germany, Spain and France that are interested in participating in the program. These companies are currently evaluating the program requirements and timeframe," says Mary Frances Postupack, Vice President of Economic Development and Research support at ESU.
As to the number of companies the program will ultimately attract, all partners anticipate enthusiastic interest. "When we discuss this option, everyone is interested in learning more. I did a presentation in India, and two hours later had a meeting with an entrepreneur," says Chantepie-Kari. "The entire opportunity is to create a platform. Once this takes off, the potential is for the program to be so large and so robust."
In June, the program will launch a marketing campaign to attract international companies to the ESU Business Accelerator. "Initially," says Postupack, "we expect that companies will start with one or two employees then expand as they plan their launch in the U.S."
"Our goal is to attract global entrepreneurs to the region who will create jobs, new businesses, and innovative products that will provide international opportunities for students, faculty and the greater community," Postupack added.
For more about ESU's Business Accelerator, visit http://www4.esu.edu/red/business_accelerator/index.cfm
---
---