ESU History Professor, Three Students Hear Lecture at U.S. Supreme Court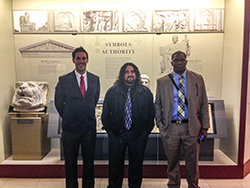 Christopher Brooks, Dr.phil., an assistant professor of history at East Stroudsburg University of Pennsylvania (ESU), took three ESU students to hear Angela Riley, J.D., professor at the University of California Los Angeles School of Law, deliver a lecture titled The History of Native American Lands and the Supreme Court on November 14, 2012, at the U.S. Supreme Court in Washington, D.C. Associate Justice Ruth Bader Ginsburg hosted the event. The three students are: Demetrius Lindsey, a senior majoring in communication studies from Reading, Pa.; Scott Meade, a senior majoring in history from Kingston, Pa.; and Thomas Fail, a graduate student in management and leadership, from Warrington, Pa.  Pictured at the U.S. Supreme Court in photo #1, from left to right, are Thomas Fail, Scott Meade, and Demetrius Lindsey, while Fail takes a stand at the podium in the U.S. Senate Press Room in photo #2.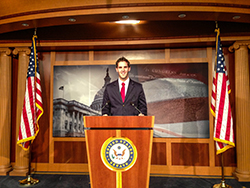 Prior to the lecture, Dr. Brooks and his students met briefly with U.S. Senator for Pennsylvania Robert P. Casey and were given a tour of the Senate. The trip was funded by ESU's American Democracy Project (ADP) chapter, which Brooks has helped lead for the past five years. The ADP is a non-partisan, multi-campus initiative focused on higher education's role in preparing the next generation of informed, engaged citizens for American democracy.
---
---