ESU Honored by Being Named Military Friendly School for 2015
East Stroudsburg University of Pennsylvania is proud to announce that it has been awarded the designation of Military Friendly School® for 2015 by Victory Media, which is the central hub for veterans and active duty military to help them find the best education and employment opportunities in one place.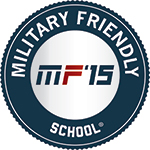 As a 2015 Military Friendly School, ESU is ranked in the top 20 percent of colleges, universities and trade schools in the country that are working to embrace military service members, veterans and spouses as students and ensure their success on campus.
ESU's Student Veterans Center, which opened during the spring semester 2013, is in Zimbar-Liljenstein Hall, Room 160. Veterans Education benefits, Educational Assistance Program (EAP) and Federal Tuition Assistance (FTA) are processed through this office. ESU is also a participant in the Yellow Ribbon G.I. Education Enhancement Program which helps defray the difference in cost for out-of-state students who are eligible for Chapter 33 (Post 911) benefits at the 100 percent tier level.
"I told every single person in our department about it when the news came out," said June Pepe, an ESU Veterans Center counselor. "It was very exciting."
ESU is forming a Veterans Task Force to identify issues that student veterans are experiencing.  The ESU veterans webpage contains current information about the process for applying for Veterans Educational benefits as well as scholarships. The Veterans Center will host weekly veteran-oriented meetings for the upcoming academic year. Kicking things off will be a meet and greet on September 18 from 2 to 4 p.m. in the Veterans Center. Future goals include monitoring the rates of veteran student enrollment, persistence and completion.
"We aim to help our veterans on campus get the services they need," Pepe added.
The 2015 list of Military Friendly Schools® was compiled through extensive research and a data-driven survey of more than 10,000 schools nationwide approved for VA tuition funding. Methodology, criteria and weighting for the list were developed with the assistance of an Academic Advisory Board (AAB) consisting of educators from schools across the country.
---
---