ESU in Top Third of ETC Rankings For Emphasis Placed on Workforce Preparedness of Graduates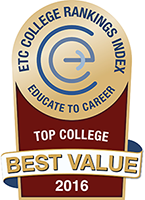 East Stroudsburg University of Pennsylvania (ESU) has earned a Best Value Top College standing by Educate to Career, Inc. (ETC), a California-based nonprofit organization founded in 2013 by persons with distinguished careers in academic administration, human resources and business management. According to Educate to Career, ESU is ranked in the top third of the annual outcomes-based, ETC College Rankings Index for 2016. The Index, produced by ETC, ranks 1,182 schools. This index is unique as it places major emphasis on the workforce preparedness and the improvement in earnings and employability that grads derive from attending a particular college.
According to ETC's President and Founder, Michael R. Havis, this Index is innovative in that it does not rate institutions on the quality of the students but rather uses an outcome-focused methodology that empirically determines the economic value added by each of the colleges ranked within the system.
"ESU's ranking is a testament to the work being done by faculty and staff with students at all levels," said David Bousquet, vice president of enrollment management.  "The ETC index tells us that we're doing a solid job of providing our students with a great academic experience that prepares them for today's ever-changing job market. ESU will continue to improve and expand the resources we provide to our students to give them the best possible means for a fruitful professional outcome."
"Users of ETC's Index will recognize that schools providing a practical education for a reasonable tuition-rate are highly ranked." added Havis. "In other ranking systems, SAT scores are frequently used as a proxy for college quality. Many brand-name colleges are better at picking winners than they are at creating them, whereas our system rates colleges based upon their demonstrated ability to improve the earnings and employability of students."
According to ETC's website, data used to develop its Index is derived from over 50 different data sources within government agencies and educational institutions. These sources include and are not limited to: U.S. Department of Labor, U.S. Bureau of Labor Statistics, National Center for Education Statistics, U.S. Census Bureau, Common Data Set Initiative, U.S. Equal Employment Opportunity Commission, U.S. Bureau of Economic Analysis, and U.S. Federal Reserve. Further, the data team at ETC consists of individuals who have been employed in labor economics and public policy at the highest levels of academic and government organizations.
For more information on the ETC or its ranking system, visit www.educatetocareer.org.
---
---