ESU Observatory Welcomes All to View Saturn and Its Moons
The Physics Department and the Society of Physics students at East Stroudsburg University of Pennsylvania will hold an open house at the university observatory to view the planet Saturn and its moons on Friday, September 8 from 8-9 p.m., weather permitting. The observatory is located on the roof of the Warren E. '55 and Sandra Hoeffner Science and Technology Center on Normal Street.
Observers will have the opportunity to view Saturn through the observatory's 16-inch telescope.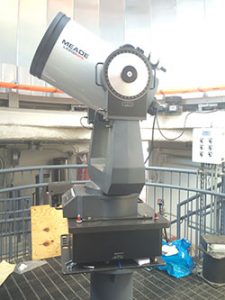 This event is free and open to the public. Children, supervised by an adult, are encouraged to come to the viewing. The observatory is a smoke-free area and can be accessed by the rear elevator or stairway. Free parking is available in the lot behind the Sci-Tech Center. Directions may be found on ESU's website.
The Schisler Museum of Wildlife & Natural History and McMunn Planetarium will also be open (standard admission rates apply) from 7-8 p.m., prior to the observatory opening. At 7 p.m. the planetarium will show the film Stars, narrated by Mark Hamill, and at 7:30 p.m., the film Passport to the Universe, narrated by Tom Hanks. Descriptions of the films may be found on the museum and planetarium's webpage.
The McMunn Planetarium features a SPITZ digital projection system in a 30-foot wide full-dome presentation for commercial films and custom star shows. The Schisler Museum features habitat recreations that display and interpret more than 140 wildlife specimens from around the world. Regular admission rates are: $6 adults; $4 children 3-17 and seniors 60+; free for children 2 and under, ESU students, and Schisler/McMunn members. Attendance at the museum/planetarium program from 7–8 p.m. is not required to participate in the free observatory program at 8 p.m.
This observatory event is weather dependent, as clouds can prevent visibility.  In case of cancellation, admittance to the Schisler Museum of Wildlife & Natural History and the films at McMunn Planetarium will be cancelled; a cancellation notice will be posted on the Facebook page of the Schisler Museum of Wildlife & Natural History and McMunn Planetarium by 6:30 p.m. on the night of the event.
---
---
---