ESU Partners with Community Groups to Map Places of the Heart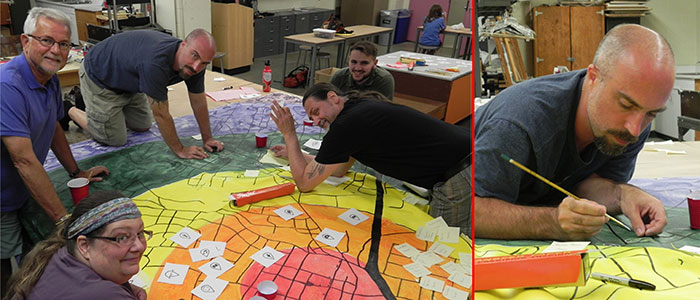 Posted by: Elizabeth Richardson on August 31, 2018, No Comments
Geographical maps can give people the lay of the land and road maps tell them how to get to where they want to go. Now East Stroudsburg University has launched a project creating maps that show the places people in the Stroudsburg and East Stroudsburg area care about.
The Stroudsburg Area Map Room Project has invited local community groups to create 10-by-10-foot maps charting the spots that are important to them. Those landmarks might include a favorite coffee shop, a local theater, an art gallery, a fishing hole or nature trail, or even landmarks from the past.
The plan is to have a diverse collection of 30 organizations take part in the effort with the finished products becoming part of a traveling exhibition, a catalog and interactive web site, according to David Mazure, associate professor of art + design, who is spearheading the project.
Far from the official geography and destinations you'd find in an atlas, these creations will map places of the heart.
"I think of it as a geographical expression of that organization and their ideals," Mazure said. He sees it as a team-building exercise for groups but also hopes it will increase tolerance and empathy as people are exposed to different perspectives.
Two groups have their maps underway – the Pocono Arts Council and retired faculty from the Association of Pennsylvania State College & University Faculties.
"The Pocono Arts Council basically painted the whole canvas into a big target and then that target centers on the areas where there are art galleries and cultural events happening. Then, they're going to highlight each cultural space where things happen for the arts," Mazure said.
Susan Randall, executive director of the Pocono Arts Council, said the amount of arts venues and activities they came up with surprised even the Arts Council members.
"It's really a unique and different way to look at the area," Randall said. "I think it's going to be fascinating to see how other groups use it."
The mapping project provides each group with a large map with major roads drawn in. Participants work on them in three-hour sessions at designated rooms in the Kemp Library and the Fine & Performing Arts Center on campus. Mazure expects each map to take only a few sessions.
Other organizations that have already expressed interest in doing one include the Monroe County Historical Association, Brodhead Watershed Association, Monroe Planning Commission and Street2Feet day center where homeless people can go for help finding jobs, housing and other necessities.
Mazure got the idea for the project when he took students from his Infographics & Data Visualization class on a field trip to the Office of Creative Research in Brooklyn, N.Y. There, they met one of its founders, Jer Thorp, a prominent data artist whose TED Talk has been watched online by more than half a million people. Thorp told Mazure and his students about the St. Louis Map Room, in which community members created maps that reflected their lives in the city, as well as its past.
"My eyes lit up because I love maps, I always have," Mazure said. "I actually learned to draw by copying maps when I was younger."
Mazure asked Thorp if other communities could emulate the St. Louis project and Thorp was enthusiastic about the idea. Cities that are doing such projects include New York, Atlanta and New Orleans.
Mazure applied for an ESU grant to fund the effort and was awarded nearly $8,000. He expects the mapping to finish up by next summer.
Paul Corona and Stephanie Ricker, both juniors majoring in art + design, are working with the community groups, setting up the maps and supplies, and taking notes and photos of each session.
"I've definitely seen a very cool discussion arise out of it from the different groups," Corona said. "It's interesting to see what the groups decide is important to them."
Corona was born and raised in the East Stroudsburg area but says he's learning more about his community from the maps.
"I mostly hope that people will get a better understanding of some groups they don't really understand," Corona said.
Community involvement is key to the map room project and also central to East Stroudsburg University's strategic plan, which is partly why it's such a good fit, Mazure said.
Pat Pinciotti, Ed.D., a retired professor in elementary and early childhood education, has been working on a map with the retired ESU faculty group. Their map will show places around the community where faculty have worked, researched and volunteered.
"We want to show the impact and influence and engagement of faculty work at East Stroudsburg," Dr.? Pinciotti said. "The university has an impact beyond its footprint."
Pinciotti, a co-founder of the ESU C.R.E.A.T.E. lab on campus, said the mapping project "provides some real richness as a way of looking at the world from various points of view."
---
---