ESU President Marcia G. Welsh, Ph.D., and Three Coaches, Take Part in Chillin For Charity Challenge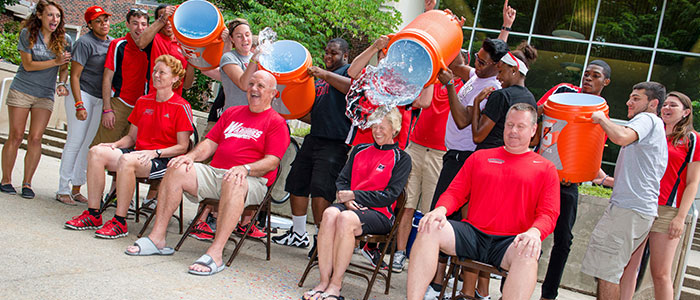 CAPTION: From left to right taking part in the Chillin For Charity Challenge at ESU on Wednesday afternoon are Sandy Miller, women's field hockey coach; Denny Douds, head coach, football, President Marcia G. Welsh, Ph.D., and Jeff Wilson, head coach, men's basketball.
East Stroudsburg University of Pennsylvania President Marcia G. Welsh, Ph.D., along with three coaches — Denny Douds (football), Jeff Wilson (men's basketball) and Sandy Miller (field hockey), accepted the Chillin for Charity challenge Wednesday afternoon.
Chillin For Charity originated courtesy of Niya Butts, the University of Arizona women's basketball coach, in memory of North Carolina State coach Kay Yow, a breast cancer victim and inspirational women's basketball coach.
Those individuals who are challenged must have ice cold water dumped on their heads within 48 hours of having been nominated. Typically, the challenge is filmed and shown on social media with the hashtag #ChillinforCharity. Once individuals accept, the person who nominated them must make a donation to the Kay Yow Foundation. If the nominee refuses, he/she must make the donation. After the challenge is either accepted or declined, you must pass the challenge on to somebody else. This phenomenon has hit college campuses all across the United States and has come home to Monroe County.
Northampton Community College President Mark Erickson challenged President Welsh in a YouTube message, and Wilson, Douds and Miller voluntarily joined her in front of Stroud Hall on Wednesday.
---
---