ESU Senior Conducts Rattlesnake Research
Eric Januszkiewicz came to East Stroudsburg University from New Paltz, N.Y. for two reasons: to continue his wrestling career and the reputable biology department. When he graduates this May, he'll be leaving with three majors, two years of experience as a resident advisor, three years on the varsity wrestling team and countless accolades.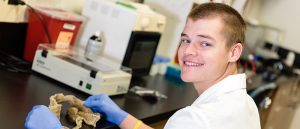 "Growing up I used to tell people I want to be a biology professor," Januszkiewicz said. "That's not the answer you expect from a kid in elementary school, but I always liked the idea of doing research."  As a young adult, his plan is still the same.  He entered ESU as a biology major. "I came into college with enough credits from AP classes to finish a year early," Januszkiewicz explained. "But during my sophomore year I thought 'Why not give myself the whole four- year college experience?' so I picked up another major." In his junior year he picked up a third. He will graduate this spring with degrees in biology, biochemistry and chemical biotechnology. Having a background in biotechnology and biochemistry, he believes, will lead to more possibilities in biology fields after graduation.
During his first three years at ESU, Januszkiewicz was a varsity wrestler. He was named to the NWCA Division II All-Academic Team, as he has maintained a 4.0 GPA throughout his college career. He was also a member of the Student Athlete Advisory Committee. He gave up wrestling his senior year due to injuries. "If wrestling was my one and only passion I would probably still be doing it," Januszkiewicz said. "But it's not. I love being outdoors. I like to go rock climbing and ice climbing. Every time I got hurt wrestling it stopped me from pursuing these outdoor adventures."
Without wrestling, Januszkiewicz fills his time on campus as a resident advisor in Hemlock Suites, a student in the honors program, a member of the National Society of Leadership and Success, and has been named to Who's Who Among Students in American Universities and Colleges twice. He's also working on an independent study at ESU's Northeast Wildlife DNA Laboratory.
He began working in ESU's Northeast Wildlife DNA Laboratory as a volunteer hoping to gain some research experience. He collected DNA from black bears and tested ticks for infectious pathogens. Now in his third year at the DNA Lab, he's conducting field research to genotype rattlesnakes.  "I'm collecting snake skins and keeping track of the health of the population," Januszkiewicz explained. "The research is really important to conservation."
It all comes back to the research. However, Januszkiewicz, the outdoor enthusiast that he is, has come to realize he enjoys field research just as much as conducting research in the lab. "Being able to work in the DNA Lab has helped me find ways to combine my love of the outdoors with my love of research."
Januszkiewicz hopes to spend some time travelling after graduation before entering into a graduate program to earn his Ph.D.
---
---