ESU Signs Articulation Agreements with Sussex County Community College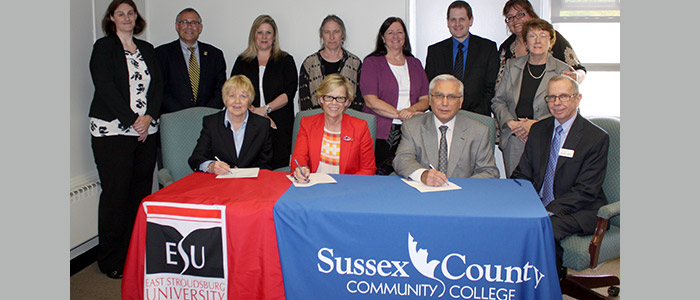 On May 11, East Stroudsburg University of Pennsylvania (ESU) signed five articulation agreements with Sussex County Community College. Two agreements were signed in business management, and one agreement for each of the following majors: history, political science and psychology.
The ESU College of Business and Management and College of Arts and Sciences will enter into articulation agreements to facilitate the smooth transfer of college credits for students who have earned their associate degree at Sussex County Community College toward a four-year degree at ESU.
"Articulation agreements such as these offer a true benefit to students who want to complete a four-year degree and who ultimately want to improve their employment opportunities. At ESU, we want transfer students to use their time effectively without repeating coursework," Marcia G. Welsh, Ph.D., president of East Stroudsburg University, said.  "Our university has a long standing tradition of focusing on the best way to serve students, ensuring they have access to academic excellence in classrooms and laboratories as well as life experiences such as field study, internships, study abroad, research and public service. We are honored to have Sussex County Community College as a strong partner in support of students."
Founded in 1893, ESU is one of the 14 institutions in the Pennsylvania State System of Higher Education. ESU offers nearly 60 undergraduate degrees and more than 20 graduate degrees.
"We are able to align our curricula in these new areas with that of ESU to form this innovative articulation agreement.  We are pleased to have such a solid partnership with ESU and continually look to ensure our students have the best possible advantages to further their education," Paul Mazur, Ph.D., president of Sussex County Community College, said.
For more information about transferring to ESU contact the office of admission at 570-422-6098.
---
---