ESU Sixth in Improving Graduation Rates/Closing Gap For Underrepresented Minority Students
In a report released this week by The Education Trust, Rising Tide: Do College Grad Rate Gains Benefit All Students?, East Stroudsburg University of Pennsylvania (ESU) was ranked sixth among the 255 institutions in exhibiting exceptional improvements in graduation rates and diminished gaps for underrepresented minority students (URMs).
The paper looked at six-year graduation rates from 2003-2013 among first-time, full-time students at four-year institutions to determine whether those institutions that have increased overall graduation rates also increased graduation rates for underrepresented students (Latino, African-American, and American Indian students) and reduced gaps between these students and their white peers.
Of the 255 institutions associated with this initiative, The Education Trust found that 77 percent of the colleges and universities raised graduation rates for their URMs and highlighted only 26 institutions that are achieving the dual goal of increasing graduation rates for all students, while closing gaps (ESU placed sixth of 26). At ESU, the 10-year changes in URM student graduation rates increased by 15.1 percent while the gap in graduation rates between white and URM students decreased during this time period by 7.6 percent.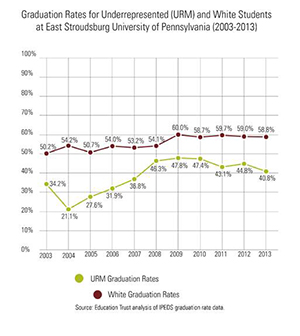 "We see this as a step in the right direction," said ESU President Marcia G. Welsh, Ph.D. "This year, we saw a 39 percent increase in the number of minority students in our freshman class, and we hope to continue this trend as our admissions team works closely with faculty and administration to meet our enrollment goals and the needs of our students." Welsh added that the number of African-American freshmen increased this fall by 40.7 percent and Latino enrollment at ESU is up 12.6 percent.
The report also calls out 17 institutions that had declining graduation rates for URMs while graduation rates for white students improved.
"Institutional leaders must be intentional about how they support their students of color and how to best guide them to leave with a degree in hand," said Andrew H. Nichols, Ph.D., The Education Trust's director of higher education research and data analytics and a co-author of the report. Nichols noted, "Leading institutions have shown how leaders can change the culture of their campus to focus on student success. They consistently analyze their data, they find troubling trends, they engage faculty to find solutions, and they listen to students and make them part of the problem-solving process."
Looking underneath the averages, the report finds different patterns for different groups of students. Improvements were greatest for Latino students (7.4 percentage points), and American Indian students saw an increase of 6.4 percentage points. Gains among black students were the lowest (4.4 percentage points), which means that gaps between black and white students actually increased for some institutions.
"ESU's Office of Admission is extremely grateful to the University for supporting its recruitment efforts of underrepresented students," said Jeff Jones, director of admissions for ESU. "Our students, faculty, staff and administrators continue to play a vital role in providing tangible support in assuring that all students have an opportunity to succeed academically and progress toward graduation."
The data for individual institutions make clear that what institutions do matters. Some are achieving the twin goals of gains in overall completion and closing gaps. Others are simply riding the tide of overall gains, while URMs lose ground and gaps widen. This report calls on institutional leaders, especially those from institutions that are experiencing gap-widening, to act quickly to close completion gaps. One way to do so is by learning from institutions that made significant progress in supporting students from underrepresented groups.
"ESU faculty and staff work tirelessly to provide support and guidance, not only to the underrepresented minority students but to all students," added Cornelia Sewell-Allen, coordinator of multicultural affairs. "ESU is making great strides to recruit minority students but we must continue to be intentional in our efforts to institute programs and initiatives that benefit students of color."
The Education Trust is a nonprofit advocacy organization that promotes high academic achievement for all students at all levels, pre-kindergarten through college. Its goal is to close the gaps in opportunity and achievement that consign far too many young people — especially those from low-income families or who are black, Latino or American Indian — to lives on the margins of the American mainstream. (https://edtrust.org/what-we-do/higher-ed/). To access a copy of the paper mentioned in this press release, visit < ahref="https://edtrust.org/resource/rising-tide/" target="_blank">https://edtrust.org/resource/rising-tide/. For more information about this report, please contact Nicole Grayson, director of communications for The Education Trust, (202) 293-1217, extension 354 or ngrayson@edtrust.org.
---
---