ESU Student-Owned Businesses Place in State System Startup Challenge Finals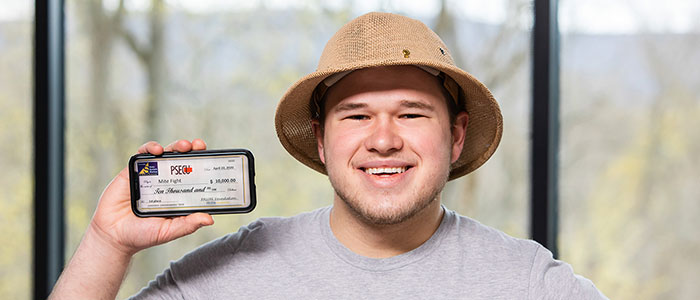 Posted by: Elizabeth Richardson on April 23, 2020, No Comments
Recent East Stroudsburg University graduate Erik Diemer won first place in Pennsylvania's State System of Higher Education Startup Challenge on Wednesday, April 22, claiming a $10,000 award. ESU senior Laura Sarria tied for second place in the one-minute elevator pitch portion of the competition with her company TACK, winning $75. The PASSHE Startup Challenge is a competition for student entrepreneurs attending the 14 state-owned universities.
Diemer graduated in December of 2019 with a degree in business management. In his last semester he launched Mite Fight, an effort to save honeybees with an affordable subscription service that sends beekeepers all the supplements and medicines they need in order to keep their bees healthy. According to Diemer, "Honeybees have been dying at increasing rate due to a mite called the Varroa Destructor." Mite Fight aims to help solve this issue.
Upon subscribing, beekeepers will receive three boxes a season that are customized to their hives and the time of the year. Another important facet of Mite Fight is the vital data collection on honeybee health known as "Honeybee Health Forecasts." Honeybees are responsible for over 30 percent of the food consumed in the United States. Knowing more about their health will help commercial beekeepers who are responsible for pollinating major crops.
Laura Sarria is a senior from Easton, Pa. majoring in integrated art + design. Her business, TACK, is a mobile travel app and social platform that serves as a digital journal, allowing users to record all the places visited throughout their trip chronologically. An important feature is sharing "tacks" with others so they can duplicate the trip with the option of customizing the locations as a guide to enjoy the same experience. "Sharing culture and experiences creates an impact on others and gives them the opportunity to have memories of a lifetime," said Sarria. Within each "tack", users can upload videos, photos and comments to keep their experiences organized.
For more information on the PASSHE Startup Challenge visit https://www.passhe.edu/inside/ASA/bizplan/Pages/default.aspx. For information about ESU's Entrepreneurial Leadership Center, contact Jamie Kizer, entrepreneurial leadership center manager, jkizer3@esu.edu.
---
---