ESU Students Make the Most of Summer with Prestigious Internships
Whether reporting on national events in Washington D.C., researching microorganisms in California or "fringe-terning" at a fringe arts festival in New York City, East Stroudsburg University of Pennsylvania students are making the most of their summers.
Two ESU students are developing computerized "smart spaces" at Lehigh University. Others are perfecting their Spanish working at a resort in Mexico, interning in the Race Fuels Department of Sunoco or making a documentary about Vietnam veterans.
Those are a just a few of the enriching experiences ESU students are engaged in this summer through internships, research projects and independent study.
ESU Distinguished Professor of Communication Studies Robert McKenzie, Ph.D., said he worked for about a year and a half with the El Cid Hotel El Moro in Mazatlan, Mexico, to set up an internship for senior Marinda LaBarre because he thought it would be a good fit for her dual majors of Spanish and communication studies.
LaBarre, of Buck Hill Falls, Pa., is immersed in all things Mexican as she lives with a local family and works on the activities staff of the resort hotel.
"The job and living experience have really helped me gain conversational skills," LaBarre said. "I have been learning the Mexican dialect of Spanish and using it in the work environment because all of my colleagues are native Spanish speakers."
McKenzie has seen how experiences abroad can be life changing and wants that for his students.
"There's no substitute to expand your mindset and your grasp of your own little place in this world than traveling to another country, being pushed to speak a different language and get used to new foods and a new way of doing things," he said.
Learning in D.C.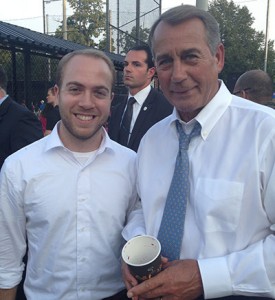 William Hines, an ESU senior from Southampton, Pa., majoring in political science, has an internship through the Washington Center for Internships and Academic Seminars in the public policy division of Grant Thornton, which is one of the world's leading organizations of independent audit, tax and advisory firms. According to Grant Thornton's web site, these firms help dynamic organizations unlock their potential for growth by providing meaningful, forward-looking advice.
Hines recently attended the Congressional women's softball game and was in very close proximity to a number of noteworthy politicians, including U.S. Representative Nancy Pelosi, retired U.S. Representative Gabby Giffords, Associate Justice of the U.S. Supreme Court Sonia Sotomayor and Speaker of the House John Boehner.
Developing 'Smart Spaces'
Ask ESU seniors Matt Hartmann and Shawn Mehltretter what they are doing this summer and the answer is likely to befuddle all but other computer science majors.
Hartmann, of Stroudsburg, Pa., and Mehltretter, of Effort, Pa., are interning at Lehigh University in Bethlehem, Pa., developing "smart spaces" that have automated doors and locks, lighting and other devices using voice controls and motion controls.
According to them, they are "interfacing a stand-alone Java program over socket.io with the node.js server." It might be Greek to laymen but such skills will bolster their opportunities in the high-tech sector.
Researching microbes in California
Senior biotechnology major Alyssa Carpenter of Birdsboro, Pa., won a National Science Foundation-funded research internship to the University of California at Riverside to work in laboratories with professors on projects related to plant or microbial biology. Carpenter will give a talk and present results of her work during the 9½-week internship.
'Fringe-terning' in New York City
Kelsey Pulzone '14 is interning this summer at The New York International Fringe Festival, which officially makes her a "fringe-tern." Pulzone, of Washington Township, N.J., is putting her newly minted bachelor's degree in technical theatre to work as a production and management intern under the general manager of the festival, which is the largest multi-arts festival in North America.
Meanwhile, Brandon Cabrera '14, of East Stroudsburg, Pa., who also earned his bachelor's in theatre, is working as a production intern at the New Ohio Theatre, an award-winning theatre company in New York City.
Reporting in Washington, D.C.
Arthur Mondale Wright, an ESU graduate student from Pittsburgh, Pa., seeking a degree in political science, is reporting on military-related issues from Capitol Hill for Talk Radio News Service. Wright's first published story was on U.S. Secretary of Defense Chuck Hagel defending the legality of the exchange of five Taliban prisoners for Sgt. Bowe Bergdahl.
Adventures in film
Seniors majoring in digital media technologies are busy making films, video public service announcements and helping filmmakers scout locations.
Justin Torok, of Bethlehem, Pa., completed an internship with Lou Reda Productions in Easton, Pa., in the spring and is now making a documentary about Vietnam veterans. Torok is interviewing veterans and using Vietnam War film clips from the Lou Reda archives.
Jay Casey, of Haddon, N.J., is making water safety videos with the National Park Service at Zane Grey Park on the Upper Delaware River. Melanie DeMarco, of Monroe, N.Y., is interning with Pocono Film Commission, which helps filmmakers find great places to film in the region and other resources for their work.
Richard Otto, Ph.D., assistant professor and chair of the digital media technologies department, said the students are having great experiences.
"For digital media technologies students we find that the internship is one of the most valuable components of their education in that they are able to take the skills they've learned and apply them in the professional world," Otto said.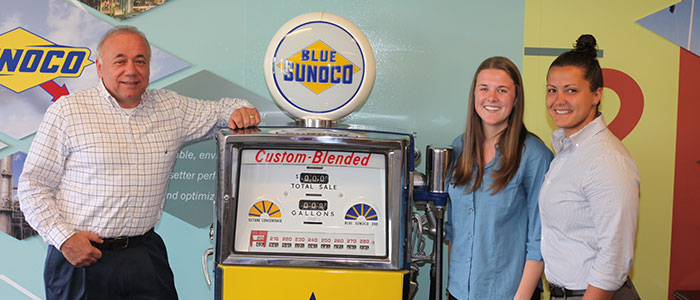 Fueling dreams with Sunoco
ESU graduate students Rebecca Hayter of Belvidere, N.J., and Courtney Hulsart of South Amboy, N.J., are interning this summer with Sunoco, thanks to ESU alumnus Rob Marro '81, who is the general manager of Sunoco's Race Fuels Department as well as a temporary instructor in the business management department at ESU.
Hayter and Hulsart are graduate students pursuing master's degrees in management and leadership with a concentration in sport management. Hayter is with Sunoco's brand marketing group helping to coordinate hospitality events, organizing VIP suites at NASCAR races and working on special event projects.
Hulsart is working as a market research analyst with the Race Fuels Department.
Fighting Lyme Disease
Helping in the fight against diseases transmitted by ticks, graduate student Michael Jansen of Red Lion, Pa., is spending the summer interning at the Northeast Wildlife DNA Laboratory. Jansen, an ESU master's candidate in biological sciences, is taking part in a joint project with Warren County Vector Control in New Jersey and the Centers for Disease Control.
He's collecting deer ticks from various spots in New Jersey and testing them for polymicrobial infections which cause Lyme Disease and other illnesses.
Managing athletics at Lafayette College
Jenna Gregory, an ESU graduate student in sport management from Phillipsburg, N.J., is assisting Kaity McKittrick '05, Lafayette College's senior associate director of athletics. Gregory is helping with maintenance of compliance and eligibility files and assisting in the completion of data for all NCAA required reporting.
---
---
---