ESU Women and Politics Class Meets with Female Legislators in Harrisburg
Nearly two dozen East Stroudsburg University students got an inside look at the undertakings of our state government and were also given the chance to engage with state legislators on Monday, Sept. 30 during a class trip to Harrisburg.
State representatives answered questions and interacted with 22 members of ESU's Women and Politics class, taught by Kimberly S. Adams, Ph.D., associate professor of political science. Students also toured the capitol building and witnessed the legislative session from the House floor.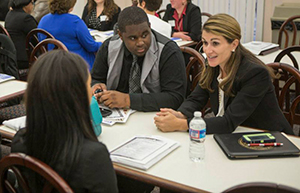 The day began with the students attending an orientation session with opening remarks by State Reps. Katharine Watson, Rosemary Brown and Mario Scavello, before taking a guided tour of the capitol building. The students, who were formally recognized on the House floor, also met with various legislators and female professionals in government for breakout sessions during which time they posed questions regarding what inspired those women to run and/or serve in state government. Class members also asked about job responsibilities and career choices and were able to hear female legislators' perspectives, experiences and approaches.
"This interaction between our students and the members of the state legislature and professional women in government exposed our students to women in leadership and provided them with a clearer understanding of the impact that women are making in the policy making process," Adams said.
The members of government present were: Pennsylvania State Reps. Watson, Brown, Scavello, Marcia Hahn, Kate Harper and Marcy Toepel. Lt. Gov. Jim Cawley stopped by to take a picture with the class.
Women professionals who participated were: Kathy Sullivan, executive director, legislative data processing center; Whitney Krosse, general counsel and executive director republican legal department; Krisinda Corbin, public relations specialist, republican public relations department; and Holly Lubart, legislative liaison with the department of general services.
The trip was arranged by Rep. Watson's office and was sponsored by an Instructional Support grant. For more information about ESU political science degree programs, contact Dr. Adams at ksadams@esu.edu or 570-422-3924.
---
---