ESU's 16th Annual Dr. Martin Luther King, Jr., Celebration Breakfast Award Winners Announced
The recipients of the East Stroudsburg University of Pennsylvania (ESU) Dr. Martin Luther King, Jr. Awards, the Gertrude Mary Smith Boddie Scholarships and the Julianna V. Bolt Art Contest will be among those honored at the Sixteenth Annual Dr. Martin Luther King, Jr., Celebration Breakfast on Monday, January 21, 2013.  Sponsored by ESU, the breakfast, which attracts about 200 guests from the ESU and local communities, will feature keynote speaker, Charles Jones, J.D., retired professor of law from Rutgers University.
Scholarship Recipients
Gertrude Mary Smith Boddie Scholarships, awarded in honor of the first student of color to graduate from what is today East Stroudsburg University, will be announced and awarded at the Martin Luther King Jr. breakfast. The recipients are: Divena Marcano, a sophomore hotel, restaurant, and tourism management major from Reading, Pa., and Roberto Retana, a senior majoring in French and hotel, restaurant and tourism management from Newark, N.J.  The scholarships were each $2,950.
Marcano was exposed to cultural differences at an early age, her parents hailing from Trinidad and Tobago and Guyana.  Growing up as a first-generation American, her tenacity and interest in business and marketing enabled Marcano to complete coursework at Reading Muhlenberg Career and Technology Center well ahead of schedule.  This feat inspired her to continue her education at ESU, where she quickly became involved in a variety of student organizations including the Hotel Restaurant Club, the African American Student Alliance, and The Awakening (a Christian fellowship group).
In addition to her busy collegiate schedule, Marcano is employed by ARAMARK, the food service vendor at ESU, which she says has provided her with training and experience in the hospitality field as well as opportunities to meet many new and interesting people. In addition to her campus involvement and employment, Marcano attends other campus activities and looks for new occasions to experience other cultures. Upon graduating, Marcano hopes to manage a hotel.
As a child, Retana learned English mostly from his mother and by watching television shows like Sesame Street.  During his younger years, he moved from his hometown of Newark to the Pocono mountains where he attended school and became involved in a wide variety of activities from learning a new language (French) to taking up soccer and singing. Upon graduation from East Stroudsburg School District, Retana entered ESU and has been making friends ever since.  He is involved in a variety of organizations including the STAR Peer Mentor Program, the orientation program, the Latin American Association and  Pura Esencia (ESU's Latin Dance Team). Retana also volunteers his time to support an organization against bullying because he says he was bullied when he was young. Retana will graduate from ESU in May 2013 and intends to pursue work in the restaurant industry and eventually open his own establishment.
Qualifying criteria for the Boddie scholarship include: a minimum grade point average of 2.5; enrollment as a full-time sophomore (30 semester hour credits completed) at the time of application, and demonstration of financial need as determined by the Free Application for Federal Student Aid (FAFSA) as verified by the office of student financial aid.  Scholarship applicants also must write an essay of 250 words describing their commitment to Dr. King's philosophy and demonstrate a commitment to social justice through evidence of community and/or university involvement. Proceeds from the MLK celebration breakfast make this scholarship possible.
The ESU Judges for this year's scholarship award were Warren Anderson, former assistant vice president for student affairs, and Bonnie Green, Ph.D., acting associate dean, the College of Arts & Sciences, and associate professor of psychology.
Dr. Martin Luther King, Jr., Award Recipients
Dr. Jyh-Hann Chang, an assistant professor of psychology at ESU and Erica Marie Mendez, a December 2012 ESU graduate, are the university recipients of this year's Dr. Martin Luther King, Jr. Award. The criteria for the award include, among other qualities, demonstrated espousal of the principles of the late Dr. Martin Luther King, Jr., such as leadership, courage and service to the community.  Normally two Dr. Martin Luther King Jr. Awards are presented each year, one to a community member and one to an ESU employee or student.  The community award was not presented this year.
Dr. Jyh-Hann Chang will receive the faculty award. In addition to his position as a faculty member, Dr. Chang is also a clinical psychologist, board-certified in both rehabilitation and sports psychology.  Chang completed a postdoctoral fellowship in gerontology at Gainesville Veterans Administration. He holds a master of science degree and doctorate in clinical psychology from the University of Connecticut and a master of arts degree in counseling psychology from Beaver College (now Arcadia University) in Glenside, Pa., He also earned a bachelor of science degree in biology from Ursinus College in Collegeville, Pa.
Chang has overcome many obstacles during his educational journey.  Probably the most critical was prior to his sophomore year at Ursinus.  While on vacation in Ocean City, Md., Chang had a life-altering surfing accident which resulted in him becoming a tetraplegic, with both legs paralyzed and limited use of his hands.  This disability served as the impetus for Chang to take the isolation out of physical disability for others like him.
With the help of some of his colleagues at New Mexico State University, and thanks to grant funding by the National Science Foundation, Chang now helps connect people with disabilities to careers in computing fields through a series of workshops called "Project ENABLE."  According to Chang, this program aims to give people with disabilities more exposure to computer science, recognizing both the need for workers with computer skills and the need of the disabled to develop job skills.
As a university professor, Chang has developed numerous courses including "The Psychology of Adjustment," "Lifespan Development," and "Infant and Child Development for Teachers."  In 2010, he received the Ralph Vitello Award for Disability Services and continues to be an inspiration to his students, his colleagues and the community-at-large.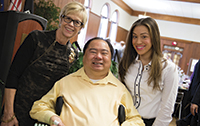 Chang has delivered papers and presentations on topics ranging from diversity and stress management to disabilities and mental health. He has also received grant funding for a number of his projects relative to service learning, disability training and adaptive sports. He is a member of the American Board of Sports Professionals, the American Board of Professional Psychology (Rehabilitation Psychology), the American Psychological Association's Committee on Disability Issues for Psychologists and the Eastern Psychological Association.  Earlier in his career, he was also a member of the American Association of Spinal Cord Injury, Psychologists and Social Workers and the American Psychological Association.  Chang also serves the local community as a volunteer for the Retired Senior Volunteer Program (RSVP), chair of the Northeastern Advisory Committee of Allied Services, a greeter and host of the soup kitchen at the United Methodist Church in Stroudsburg, Pa., and as a volunteer for Family Promise, a non-profit organization that assists families who are homeless in Monroe County. Chang resides in Stroudsburg.
The ESU Student Award will be presented to Erica Marie Mendez, who received her bachelor of arts in fine arts/vocal performance. Described as an "extremely gifted singer," she used music to bring together people of diverse backgrounds, a mission she remained committed to since coming to ESU in fall 2010. Seeking to embrace the diversity of ESU, Mendez has performed with the Concert Choir, in the musical revues "Broadway Memories" and "A Grand Night for Singing," in contemporary dance performances and in several voice recitals. She has endeavored to get many students of color to attend these events. She was awarded a Board of Governors Multicultural Scholarship, the Dr. Martin Luther King, Jr. Drum Major for Justice Advocacy Competition sponsored by the National Bar Association (NBA) the nation's oldest and largest association of African-American lawyers and judges, the 2010 Overall Artistic Performance Talent Hunt Competition Award from Omega Psi Phi Fraternity, the Council of Spanish-Speaking Organization's Youth Leader Award, the National Liberty Museum Young Hero Award, the Philadelphia Commission on Human Relations Artistic Award, the Lights of Liberty Vocal Award, Hispanic Youth Showcase Award and numerous others. Mendez is an artist and activist who seeks socio-economic justice and political leverage for the underrepresented. She has performed at many venues where she advocates for social and economic justice. In addition, Mendez, who is bilingual, is instrumental in assisting and registering new voters whom she teaches about the political process. She works at Philadelphia's National Constitution Center. Her other passion, beside music, is law. She plans to continue uniting and motivating people through music, and expects a law degree will further her goal to help those unfairly denied equality and justice. Currently, she seeks to study for the LSATs so she can apply for law school entrance.
Judges for this year's awards were: Christopher Brooks, Dr. phil., assistant professor, ESU Department of History; Paula Heeschen, The Pocono Record editorial page editor; and Danelle  McClanahan, ESU director of diversity/ombudsperson.
Julianna V. Bolt Art Contest Awards
In addition to the presentation of the Gertrude Mary Smith Boddie Scholarship Award winner and the Dr. Martin Luther King, Jr. Awards, Julianna V. Bolt Art Contest Awards will be presented to local high school students for their submissions. The award was named after the late Julianna V. Bolt, an ESU accounting assistant from 1994-1996. Eighty-five contest entries were received from students representing East Stroudsburg High School South, East Stroudsburg High School North, Stroudsburg High School, Pleasant Valley High School, and Pocono Mountain High School West.
The winners of this year's contest are: First place, Gary Tuzinkiewicz, East Stroudsburg High School South (teacher, Ms. McIlvaine); second place, Geena Quijano, East Stroudsburg High School North (teacher, Ms. Tischler); and, third place, Cassidy Roos, Pleasant Valley High School (teacher, Ms. Rostock).  Honorable mention winners are: Rachel Slusaw, Crystal Prince and Kylie Coppinger, Stroudsburg High School (teacher, Mrs. McKain).
This year's art contest was judged by university and community leaders including: Helen Yanulus, features editor for The Pocono Record; Joni Oye-Benintende, ESU professor and chair of the art department; Darlene Farris-Labar, associate professor of art; Feno Volpe, ESU professor emeritus and local artist; Wayne Bolt, retired resident and community member serving on the MLK Celebration Breakfast Committee; the late Julianna V. Bolt, and McClanahan.
Keynote Speaker
The keynote speaker for this year's Dr. Martin Luther King, Jr., Celebration Breakfast is Charles Jones, J.D., retired professor of law from Rutgers University.
Professor Jones will share his personal experiences of working with Dr. King on voter registration cases in Alabama while an attorney with the NAACP Legal Defense Fund from 1965-66.  During this time Jones also tried federal civil rights cases and argued appeals in the areas of school desegregation, housing segregation, voting rights and demonstrations, public housing and equalization of municipal services.
Raised in Chicago, Jones earned his juris doctorate from the University of Illinois and a master's degree in public administration from Harvard University.  He was also a graduate of, and a teaching fellow for, the John F. Kennedy School of Government at Harvard University.
Jones joined the Rutgers law faculty in 1970, teaching courses in criminal law, criminal procedure, civil rights, civil liberties, legal representation of the poor, corrections law and constitutional law. He also directed seminars on law and political behavior, criminal justice and racial violence, hate speech and crime and race law theory and he co-directed the Rutgers University prison law clinic. His research and writing have focused on free speech and hate crime. Now retired, Jones continues to write on various subjects.
For more information about the celebration breakfast or the Gertrude Mary Smith Boddie Scholarship, please contact Cornelia Sewell, coordinator of multicultural affairs at (570) 422-3896 or csewell@esu.edu.
---
---