ESU's Department of Theatre to Present "Seussical the Musical"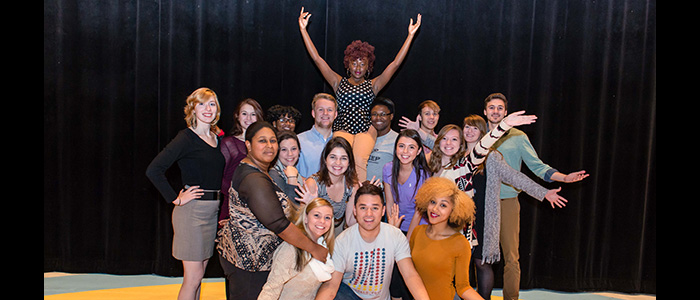 Editor's Note: The final performance of Seussical the Musical on October 26 at 2 p.m. will welcome two ASL interpreters, Carol Silvoy and Robert Torres. The interpreters will sign the entire production for the ASL community in attendance.
Oh, the thinks you can think when you think that Seussical the Musical will be presented by East Stroudsburg University of Pennsylvania's Theatre Department in October.
The Cat in the Hat, the Whos, Horton, and other classic Dr. Seuss characters will take the audience to a fantastical, imaginative world. Michael Lloret, a senior theatre major from Shawnee-on-Delaware, Pa., starring as The Cat in the Hat, claims this is "one of the best casts" he has seen in his acting career at the university.
The musical was written by Lynn Ahrens and Stephen Flaherty based on the works of Dr. Seuss. Margaret Joyce Ball, D.M.A., director, associate professor and chair of theatre, cast the show at ESU earlier this month. "Students are working so hard on this production," Ball said.
But for students like Lloret, their hard work is the best part. "I work so hard at theatre because it makes the audience happy," he said. Lloret especially loves children's plays because he has the ability to have an impact on today's youth through his acting.
The entire cast has high expectations for this production. "The talent is impeccable, and I am learning from everyone on the cast," said Destiny Washington a sophomore theater major from Philadelphia, Pa., who is starring as JoJo.
The cast will make sure to look the part in preparation for the musical. The scenic and costume design for the show is done by Yoshinori Tanokura, associate professor of theatre.
Seussical debuts on October 22, during Homecoming week. The musical will run October 22-25 at 7:30 p.m., October 25 and 26 at 2:00 p.m. in the Smith-McFarland Theater of ESU's Fine and Performing Arts Center, Normal and Marguerite streets. The October 26 performance will be signed by ASL interpreters Carol Silvoy and Robert Torres.Tickets go on sale October 1, 2014. Purchase advance tickets with a credit card online at http://esu.edu/theatretickets. Tickets may also be purchased at the box office one hour before curtain on performance dates (cash and checks only). Please arrive early. For additional information, please call 570-422-3483, ext. 4 or email esuarts@esu.edu.
---
---