ESU's G3Design Lab Shows Off Printing Equipment at Grand Opening
Pictured from left to right at the grand opening of East Stroudsburg University of Pennsylvania's G3Design Lab this week are Patrick Ross, chair of ESU's Council of Trustees; Jan Baum, executive director of 3D Maryland and art professor at Towson University; and Darlene Farris-LaBar, ESU associate professor of art.
The Art Department at East Stroudsburg University of Pennsylvania hosted the grand opening of G3Design Lab, a 3D printing, design and fabrication facility, on Wednesday, April 16, in the Fine and Performing Arts Center.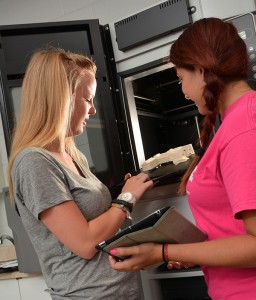 The rise of affordable, rapid prototyping has created a growing awareness and demand for a workforce that is trained in the techniques of this new technology and for creative designers who can develop innovative products and solutions for a variety of industries and entrepreneurial activities. Studio G3 in the Fine Arts Center has been transformed with state-of-the-art equipment, such as 3D printers, 3D scanners, CNC laser cutter and milling machines, which have been installed along with computers loaded with 3D modeling and design software. Their use has been integrated into some of the art department's course offerings with an eye toward development of a product and object design concentration.
---
---