ESU's Student Nurses Association (SNA) Hosts Third Annual Senior Citizen Prom
The Student Nurses Association (SNA) chapter at East Stroudsburg University of Pennsylvania (ESU) recently sponsored its third annual Senior Citizen Prom during the spring semester.  According to Paulette Dorney, an instructor in ESU's nursing department and SNA adviser, more than 40 senior citizens from Loder Senior Center, Hillcrest Retirement Community, Chandler Estates, and the community attended this event at no cost and were able to enjoy fellowship, dancing, light refreshments as well as a photo booth and door prizes. Dorney added that the Senior Citizen Prom offers a platform in which nursing students can socially interact with senior citizens of the community and apply what they have learned about the older adult. Part of SNA's mission as an organization is to promote active involvement in community service activities.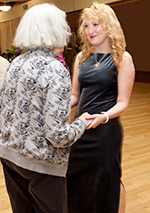 Attendees enjoyed the event, including Angie Matesse who said "It was a blast!" and Gwen Marvin who said "It was a blessing to be here. Thank you."
"It was a very delightful afternoon," said Carolyn E. Woolley.  "Everyone was so great and so was the music. I had such a great time with everyone and the food was great too."
"Enjoyable Sunday afternoon," said Alice Connors.  "The music got everyone in a fantastic mood. The students were very pleasant and got everyone food and drinks."
"All the students were very accommodating, friendly, and very helpful," said April Woolley. "You made a lot of folks very happy!"
The ESU students—all majoring in nursing—who were involved in the event are: Amy Gust, a junior from Philadelphia, Pa.; Danielle France, a junior from South Brunswick, N.J.; Megan Rubendall, a junior from Collegeville, Pa.; Jena LaRose, a junior from Toms River, N.J.; Kelsey Chadwick, a junior from Neptune, N.J.; Angela Landy-Cressman, a junior from Perkasie, Pa.; Kimberly Raffaele, a senior from Jim Thorpe, Pa.; Ingrid Lochner, a senior from Colonia, N.J.; Theresa Miller, a senior from Marywood, N.J.; Maria Beyer, a senior from Whippany, N.J., Ferusha Feradova, a junior from East Stroudsburg, Pa.; and Anna Smetak, a junior from Harrisburg, Pa.
For more information about the Senior Prom, please contact Dorney at call 570-422-3567 or by email at pdorney@esu.esu.
---
---