Federal Grant Winner Professor Michael Gray, Ph.D., Talks Civil War Prisons with CNN.com
During the Civil War, an opportunistic entrepreneur built an observation deck at the North's prison for captured Confederate soldiers in Elmira, N.Y., so visitors could pay 15 cents to gawk at the wretched, half-starved POWs.
It's fascinating stories like that that East Stroudsburg University of Pennsylvania Associate Professor of History Michael P. Gray, Ph.D., discovered when he was researching his book, "The Business of Captivity: Elmira and Its Civil War Prison."
In March, Gray '90 M'91 was awarded a federal grant to continue his research on Civil War prisons, which he plans to develop into two more books. In April, he was interviewed by a writer for CNN.com for a lengthy story to mark the 150th anniversary of the most deadly year for Civil War prisons.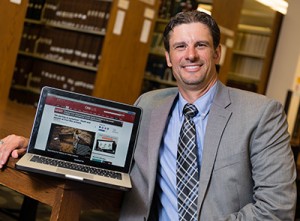 Gray said it was a thrill to win the competitive grant during the sesquicentennial. The prison camps in the North and South were known for overcrowding, disease and starvation with 56,000 deaths from 1861 to 1865. The prison in Elmira had the highest fatality rate of any Civil War prison in the North with almost one in four prisoners dying there.
CNN.com writer Phil Gast got the idea to interview Gray after hearing about his research on the Elmira prison from staff at the Andersonville National Historic Site in Georgia, the location of one of the largest and best-known Confederate prisons. Gast's CNN.com story, which includes interviews with other Civil War experts, has attracted more than 1.2 million page views.
Gast said Gray provided valuable insight into Northern prisons such as the one in Elmira.
"I found it interesting reading his book and talking to him about the interactions between the prison and the town of Elmira and the economy there," Gast said.
Gast also cited Gray's research on how some prisoners learned to make trinkets out of human bones that guards would then sell on the outside, giving the prisoners a little money for more rations.
"That was compelling to show the fight for survival," Gast said.
The federal grant Gray won will pay his expenses to go to Andersonville National Historic Site – which is devoted to preserving the history of Prisoner of War camps – where he will do research for two weeks in August. He plans to dig further into how businessmen made money selling opportunities to the public to stare at the POWs – both in the North and South.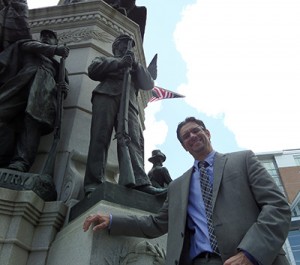 Gray is also working on a book on the Johnson's Island prison near Sandusky, Ohio, which incarcerated only officers of the Confederacy.
"Johnson's Island had a death rate of less than 2 percent whereas Elmira's death rate was almost 25 percent," Gray said. Because the Johnson's Island prisoners were officers, they got better treatment.
"I've found information where Confederate officers who were taken prisoner had slaves and they were allowed to bring their slaves with them," Gray said.
Gray discovered his passion for researching Civil War prisons while he was an undergraduate studying history at ESU and wrote his senior seminar paper on the Andersonville prison. He delved further into the subject for his master's degree in history at ESU, writing his thesis on a comparison between the North's prison at Elmira and the South's at Andersonville.
Gray earned his doctorate at Kent State University, where he was able to study under the premiere scholar on Civil War prisons, Frank L. Byrne. Gray's doctoral dissertation on Elmira – which he turned into his book — was the first study to examine the economic impact of a Civil War prison on its host community.
Sometimes, Gray learned, the host business community traded in human misery.
"At Elmira they built two observatories to view prisoners," Gray said. "This guy just hangs a sign, 'Observation deck to view prisoners 15 cents, refreshments served below.'
"The guy provided spy glasses so people could see the vermin on the prisoners of war," Gray said. "Then a rival tower was built and it was 5 cents cheaper."
At Johnson's Island, steamboat captains would charge civilians to take a trip near the island to gawk at the prisoners. "They'd be singing patriotic songs, drinking, eating…they'd be thumbing their noses at the POWs," Gray said.
Last summer, Gray was pouring through documents at the Chicago Historical Center and discovered there were two observation towers charging people to view prisoners at Camp Douglas in Chicago. The second observation tower had not been previously reported.
It's finds like that which help Gray bring alive the Civil War for his ESU students. In April, Gray was honored for outstanding service to the university with the "ESyoU" recognition. The ESyoU employee recognition campaign was launched in the fall of 2013 to pay tribute to members of the faculty and staff who have shown excellence in student-centered service.
The CNN.com story can be found here: http://www.cnn.com/2014/05/04/us/civil-war-150th-anniversary-prisons/
---
---
---