Immediate Decision Day Changes Path for Student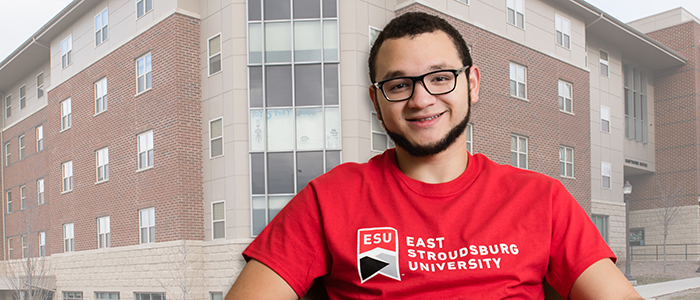 Posted by: Elizabeth Richardson on February 14, 2017, 2 Comments
In high school, Rafael Cordero always pictured himself attending Penn State University or Seton Hall University. The Milford, Pa. resident wanted to spend his Saturdays at Beaver Stadium watching football or cheering on the Pirates basketball team during March Madness. But that all changed the day Jeff Jones, director of admissions at East Stroudsburg University of Pennsylvania walked into Delaware Valley High School for Immediate Decision Day.
"I saw something in this young man," Jones said. "I knew he was a Warrior." Right then and there he offered Cordero a full scholarship to ESU. Now, after three short years, the history major is getting ready to graduate and reflecting on his decision to attend ESU.
"I really wanted to go to a big school with a Division I athletics program. I love watching sports," Cordero said. "But when I first came to ESU I felt immediately connected with the campus." He started his freshman year with a heavy course load. "I took 18 credits my first semester, and that was all I knew. I've taken 18 credits every semester since, and now I'm going to graduate in three years."
By May he will have all the tools to become a history teacher: a great education, teaching experience in the classroom, and leadership skills he developed outside the classroom. He is a member of the National Society of Leadership and Success and a resident advisor in Hawthorn Suites. "Being an RA has helped mold my leadership skills," Cordero said. "It helped me have a voice and become more social and active on campus."
Cordero became an RA when he was 19. He was younger than most of the residents. "I had to learn to be confident without being the biggest kid in the room." This confidence will help him as he enters the classroom to teach. "You have to be strict, but you also have to be genuinely good. If you have a sincere level of respect for the people you oversee, you will be a good leader and a good teacher."
He doesn't regret not being at a big DI school. He gets to ESU Warrior games and spends a lot of time playing basketball at the Mattioli Recreation Center. But it's more than just the extracurricular activities for Cordero. He has made a connection with his professors that helped him excel at ESU. "It feels like what I do here matters. I don't know that I would have felt that way anywhere else."
"All the professors are on the same page. It helps make the transition from one class in the department to the next seamless," he said. "Everyone has the same end goal." Cordero continued, "Nothing ever seems to get lost in translation because the classes aren't too big. There's a connection between the students and our professors." He wants to make the same connections with his students when he is a teacher.
Cordero will spend his final semester at ESU student teaching at Dingman Delaware Middle School and Wallenpaupack Area High School. While at Dingman Delaware Middle School he will have a chance to engage with students outside the classroom. Combining his love for teaching with his love for sports, he will also be coaching basketball.
---
---
---