Indranil Mitra, Ph.D., '07 Wins Prestigious Humboldt Postdoctoral Research Fellowship
Indranil Mitra wasn't sure what direction he wanted to head in when he arrived at East Stroudsburg University of Pennsylvania.
"I was a little bit of a late bloomer," admits Mitra '07, referring to the time it took him to decide to focus all his energy on biochemistry at ESU.
Looking at his accomplishments, it's hard to believe that this recent winner of one of the world's most prestigious postdoctoral fellowships was ever anything but focused on his path to a career in cutting-edge research.
Mitra, who received his Ph.D. in analytical chemistry from Indiana University in 2014, was just awarded a two-year Alexander von Humboldt Research Fellowship for Postdoctoral Researchers at the University of Freiburg in Freiburg, Germany.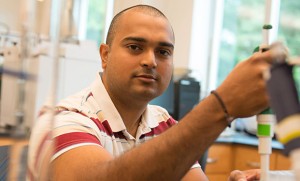 The Alexander von Humboldt Foundation was established in honor of Alexander von Humboldt (1769-1859), nature researcher, scientist and explorer considered the "father" of natural science disciplines such as physical geography, climatology and ecology. With a goal of fostering research in Germany and supporting a global cultural dialogue, the foundation aims to attract "the crème de la crème" of researchers, annually offering about 700 research fellowships to applicants worldwide. About 30 percent of applicants receive awards.
Mitra and German colleague Dr. Matthias Meier, from the University of Freiburg, created the proposal to conduct research in cellular signaling. In layman's terms, the project involves tracking of protein subpopulations within single cells "to learn more about how cells sense and respond to their environment" Mitra said.
Cells respond to nutrient availability, extracellular stimuli and stressors with rapid and reversible modification of glycoproteins, or proteins that contain carbohydrates. Mitra explains protein glycosylation (an enzymatic process that modifies the glycan component of proteins) as a kind of "volume knob to associated biochemical activity or pathways." This signaling is intimately related to certain diseases, including diabetes and cancer. Using a combined biological and chemical approach and microfluidic technologies, the project will be able to track hundreds of different conditions on single cells to reveal how certain glycoproteins are involved in cellular signaling.
Mitra, from Milford, Pa., came to the U.S. at age 10 from Kolkata, India. Despite a number of engineers on his mother's side of the family, and an interest in physics as well as biochemistry, Mitra wasn't sure about what he wanted to do. Although he had a 3.5 GPA, he considers that he was "just getting by," and said it wasn't until junior year that he really hit his stride.
He credits ESU's small size and supportive faculty for nurturing his interests and talents and helping him to settle on earning dual degrees in biochemistry and chemical biotechnology.
"I think it would have been much different if I had gone to a bigger school," he said. "The undivided attention I got at ESU made all the difference in gaining confidence."
Richard Kelly, Ph.D., ESU professor of chemistry, said that by the time Mitra was a junior, he "had decided that being ordinary just wasn't going to cut it. His performance in my class was exceptional. I went back and looked at his record and he excelled in every area… He didn't have any apparent weaknesses."
After graduation from ESU, Mitra worked in the toxicology division at Hoffmann-La Roche in Nutley, N.J., as an analyst until he decided to enter a doctoral program in analytical chemistry at Indiana University at Bloomington.
Analytical chemistry is the field of measuring chemical components in natural and synthetic materials. With the development of better methods and instrumentation, scientists are able to make more accurate, precise and sensitive measurements of trace and unstable materials, as well as to analyze materials or processes never before studied.
At IU, Mitra's research included pioneering methods for disease screening by microchip electrophoresis of glycans and developing chemical strategies for quantitative and structural analysis of glycans, which can change with disease progression (for example, the development of cancer). Comparing changes in glycans in blood samples from cancer patients and disease-free individuals may identify biological markers for the diagnosis and prognosis of cancer and precancerous conditions.
Among his other accomplishments are a half-dozen peer-reviewed publications in international journals, as well as numerous invited lectures at national and international meetings.
In the future, Mitra is more interested in research than teaching. The Humboldt application stemmed partially from the desire to continue his research and partially from a desire to live abroad. His wife, Melissa Tesoroni Mitra '06, is a language teacher and both find the prospect of living in Europe appealing.
Kelly said that Mitra is the first ESU chemistry student he can recall who has won such a major fellowship. He adds that Mitra has the perfect personality and skill set for a career in analytical chemistry, but even allowing for a natural fit, he calls his former student "very special."
---
---
---