Kyle Kostic, 33, dedicates his life, book and degree from ESU's extended learning program, to his mother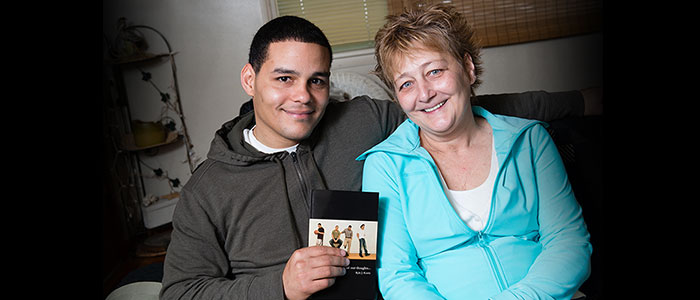 Posted by: admin on December 12, 2013, 8 Comments
Kyle Kostic's coat was supposed to be the shield that kept his middle school books, homework and folders – considered his prized possessions – safely hidden.
That ploy only worked for so long. Within just a few weeks, kids started noticing what Kostic was concealing, and as they walked home from school, they'd pound on his jacket, knocking free the books that then lay splattered on the ground. It happened again and again.
The humiliation added up, and by his freshman year of high school, Kostic changed his ways.
"He just stopped bringing homework home," Kyle's mother, Karen Kostic said.
And that meant he stopped making school a priority, which caused his grades to slip. The lack of attention to schoolwork allowed Kyle, who never knew his father until he was an adult, to fit in more with kids from his neighborhood. While he never got involved with nor was he tempted to crash into a world of drugs, crime or vandalism, he couldn't bring himself to stand out anymore by admitting to actually liking school.
"My mom always told me I'd be put in situations where I have to make a choice that would determine the rest of my life," Kyle said. "One of my best friends is in jail for robbing banks and is serving 41 years. I was in a situation where he asked if I wanted to come. I was in the line of trouble. I was faced with situations like that my whole life. These are the people you play basketball with and then at night they're robbing people. You can't get away from it. I've learned how to exist in that environment but not get caught up in it.
"My mom made me understand the risk that goes with the reward. The reward was never worth the risk of my freedom, and I valued that more than anything."
These days, Kyle, 33, is valuing his education as much as anything. On Saturday, , December 14, he will become the first student to graduate with a psychology degree from ESU's Extended Learning Program. He decided to return to college years after he dropped out when a recruiter from ESU made him aware of the college's degree completion program during a visit to his place of employment, which had already announced the job cuts were coming.
"My mom is one of the motivating reasons why I went back to school," Kyle said. "She sacrificed herself for me. I feel like I didn't do her due diligence. She raised me to be great, not good or average. I wanted to achieve on a higher level for her."
Although school was no longer Kyle's priority, he didn't give up altogether on his education — he did well enough to register at East Stroudsburg University, which he started attending in the fall of 1998 just a couple months after graduating from Allen High School. But Kyle, whose teachers had wanted him to move right from first grade to third grade, didn't apply himself during his first stint at ESU. Then, he simply dropped out with just one year remaining.
"I really didn't focus on school at all," he admitted.
Kyle had other things on his mind. He was helping to take care of his son, Koi, who was born when Kyle was 16, he had a full-time job with a national phone company and he was a varsity and junior varsity assistant basketball coach at Allen High School, which he grew to love. Kyle also got married and had a little girl, Maecee, who is now 8. But without his degree or any real direction in the workforce, Kyle wasn't able to advance his career beyond his employment with a national phone company, where he answered the phones and provided tech support to customers from 11 p.m. until 7 a.m.
At work, Kyle stayed busy handling customer complaints and concerns for an hour or two, but the phone would rarely ring after 1 a.m., and he was left with nothing to do. It was too late to text or call his friends or family. And he tired quickly of reading CNN.com and ESPN.com.
Then it hit him. Kyle created a blog and started spilling his heart out, something he never expected of himself, a self-described introvert.
"I wrote about all kinds of topics, whatever I was thinking about for the day, he said. "Then one day I logged in and people were commenting on my posts and I didn't know anyone was even reading it. I would write really personal stuff. People were like, 'Wow, I could relate to that.' It was my own little community. I would go back and forth with them. I used to be at home and think, I can't wait to get to work to start writing."
One reader suggested Kyle gather his blogs together and turn them into a book.
"I started thinking, 'Maybe I should,'" Kyle said. "But I hadn't even told anyone in my personal life about the blog."
That didn't matter. Kyle compiled the blog entries he wanted to include and had the book, "A collection of our thoughts," self-published. He presented it to his mom, who knew nothing about the book, that Mother's Day (2010).
"Did you ever get that expression on your face where your face hurts?" Karen said. "My mouth dropped open and I had tears streaming down my face as I was smiling. Nothing was coming out of my mouth. You just can't imagine the feeling of your son writing a book and giving it to you on Mother's Day. I was totally shocked and proud. I always knew he could do something big. But write a book? Never. It was amazing. I read the whole thing that night."
While Kyle was busy enjoying the excitement of being a published author, he got slammed with the news that his company was eliminating his job and outsourcing the entire department. As part of Kyle's compensation, the phone company offered to pay for him to go back to school. He registered at Lehigh-Carbon Community College and is getting his associate degree in criminal justice, which will be completed in May 2014, and because he was in search of a four-year degree, also re-applied to ESU's degree completion program (which he pays for) and was admitted.
Returning to the place where it all started has made a remarkable difference for Kyle. After posting a 2.6 GPA in his first stint at ESU, he had a 4.0 in his first semester back in the fall of 2012. During his return, he has earned all As and only two B-pluses.
"As an older student, I'm so much more appreciative of the opportunity to learn and be taught by these great people. It's been awesome," Kyle said. "I love getting work to do because it's a chance to learn. When I was a kid, it was work. Now, that's something I've really embraced. I feel like this time I've maximized my experiences. I've read the books. Just being around people with goals and who are successful is awesome. I feed off their energy and it makes me want to achieve on the highest level. I've had great professors and have surrounded myself with people with goals and ambition."
Kyle's ambitions extend well beyond walking in commencement, while his mom, grandfather and two kids look on proudly. He plans to return to college to achieve a graduate degree that will enable him to eventually become a counselor for children and adolescents. Until then, he'd like to work as a juvenile probation officer.
"That would make me happy," Kyle said. "I'm not money driven. I just want to do something that's rewarding."
Kyle's time at ESU, his degree – he'll be the first person on his mom's side to graduate from college – and his book have allowed him to learn a great deal about himself and where he wants to go in life.
"There was a point in my life when I felt like I was living for other people and trying to make other people happy," he said. "Then I reached a point when I started doing what I wanted to do and not conforming to society's standards. I started living for me. I do feel like I'm at peace. I used to try to buy the newest and best sneakers and be cool. But there are core things you need to focus on, your relationships, your family, your kids. All the other extras are not important to me. I don't let it consume me. People need to take a step back and look at what's important."
What's important now are not the books that were splattered across the street when he walked home from school, but the ones he cherishes on the shelves at his home.
---
---
---