Madelon Powers Gallery to Present Alluvial Plain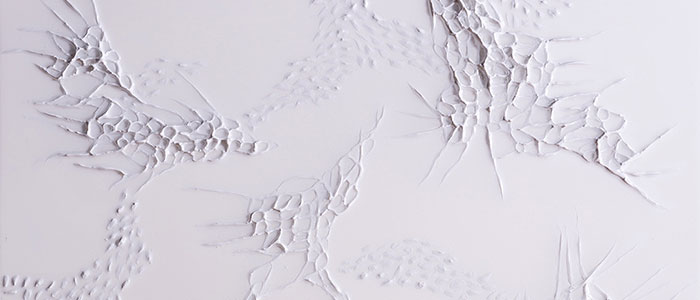 Posted by: Elizabeth Richardson on September 12, 2017, No Comments
Mixed media works by artist Yvonne Love will be featured in the exhibit Alluvial Plain October 2-27 at East Stroudsburg University's Madelon Powers Gallery.
"The work in the series Alluvial Plain is a reflection of an internal and transient exploration of place," Love noted. "My process is an immediate response to juxtaposed materials, whether combining modeling paste and resin or porcelain and glass.
"Part of my process is finding my work in nature," Love added, "whether it is the movement of a bird's wings, ice formations on the surface of the water, or sedimentary deposits over time; each momentary, each changing."
Hours for the gallery, located in the university's Fine & Performing Arts Center, Normal and Marguerite streets, are 11 a.m. to 7 p.m. Wednesday and Thursday, and 11 a.m. to 4 p.m. Monday, Tuesday and Friday.
A reception for Love will be held Wednesday, October 4, from 4-6 p.m. in the gallery.  Both the exhibit and reception are open to the public at no cost.
An assistant professor of art at Penn State Abington College, Love earned an M.F.A. in sculpture from the University of Pennsylvania and a bachelor's degree from the University of Florida. Her sculpture has been most recently exhibited at Taller Graphica in Havana, Cuba, Liquid Art House in Boston, LG Tripp Gallery in Philadelphia, Brenda Taylor Gallery in New York, and Sidetracks Gallery in New Hope, Pa.
For more information on the exhibit or reception, contact the ESU Fine and Performing Arts Center at esuarts.esu.edu or call 570-422-3483.
---
---