Marine Science Consortium Changes Name
The Marine Science Consortium, a non-profit environmental learning center and field station located on the Eastern Shore of Virginia and offers marine and environmental science research and field study to East Stroudsburg University students, is changing its name.
After October 1, The Marine Science Consortium will be the Chincoteague Bay Field Station.
"It's a big deal for any organization to go through a name change, and even more so for an organization with 45 years of history," said Amber Parker, The Marine Science Consortium executive director. "We wouldn't undertake such a radical change without really good reason."
The Marine Science Consortium has grown over its lifetime, but the last five years it has seen amazing growth and evolution. Stemming from a $15 million campus revitalization project, the organization also revitalized its programs and created many new multi-disciplined educational opportunities for all ages and learning levels. The modern campus, excellent partnerships and a growing research and education program have added new disciplines and expanded the scope of the educational program to include the arts, humanities, sciences, technologies and trend setting educational methods. Currently, 10 Pennsylvania State System of Higher Education (PASSHE) universities are members of The Marine Science Consortium.
"In light of all these changes, we realized that the name 'Marine Science Consortium' no longer fully represents all our programs, resources, and abilities," Parker said.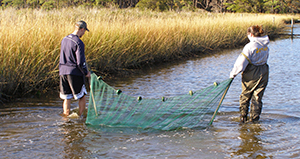 With that in mind, and along with representatives from their key stakeholders, The Marine Science Consortium conducted a comprehensive name and brand review process resulting in the name Chincoteague Bay Field Station.  This name was chosen because it represents the true nature of the organization's field-based programs and hands-on methods, illustrates their academic nature, as well as provides instant recognition of the geographic location.
The new logo includes a black-necked stilt, which is a charismatic bird found in the high marsh areas of Chincoteague Bay. The stilt, as a long-legged wader represents the Chincoteague Bay Field Station's work on water and land.
"I know that a name change always takes some time to get used to, particularly when it involves an organization with our length of history," Parker said. "I hope everyone will help us as we move forward with our new identity. Know, however, that it really is just a name change. Our mission, programs, and culture will remain the same. I am hopeful that, with this change, we will be able to educate even more people about our unique coastal environments."
Since 1965, The Marine Science Consortium, a 501 (c) (3) non-profit, residential environmental learning center, has educated and inspired thousands of children, youth and adults about the marine and coastal ecosystems along the Mid-Atlantic Region through place-based, hands-on experiences.
---
---