Math and Art Students Construct Calculating Art on Campus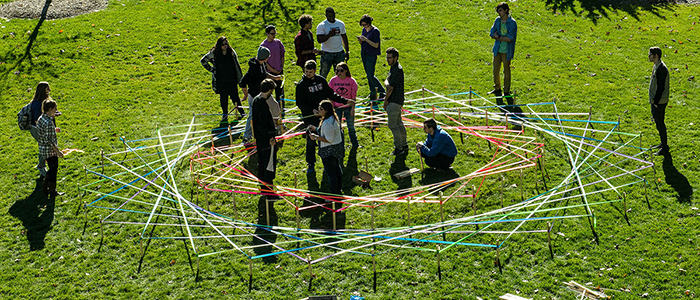 Posted by: admin on November 14, 2016, No Comments
ESU math and art students constructed a unique project called "Calculating Art" on campus today. Four circles, each 20 to 30 feet in diameter, were installed in front of the Hoeffner Science and Technology Center and behind Koehler Fieldhouse. The students used mathematical calculations to determine the length of each piece of tape and location of the stakes to create patterns and shapes within the circles.
In preparing for the project, the upper-level geometry students collaborated well with the freshman art + design students to come up with interesting, intersecting circles, said David Mazure, associate professor of art + design.
Many of the math students are on track to become math teachers, and these types of projects will help them educate their future students, said Jonathan Keiter, Ph.D., assistant professor of mathematics.
---
---