More Than 200 ESU Students Taking Part in Adopt-A-Block to Clean up Trash in the Borough
Above from left to right are: Erb, Kait DeAngelis, a sophomore speech-language pathology major from Slate Hill, N.Y.; Ananian; and Kacey Sherman, a freshman speech-language pathology major from Mount Holly Springs, Pa.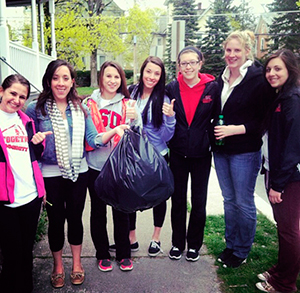 From left to right are: Shannon Karpowich, a sophomore business management major from Freeland, Pa.; Rachael Ananian, a senior psychology major from, Mahwah, N.J.; Ellen Brylewski, a senior physical education major from Mahanoy City, Pa; Emily Erb, a sophomore rehabilitative services major from Boyertown, Pa.; Renee Censier, a sophomore athletic training major from Mount Joy, Pa.; Amanda Brown, an undeclared freshman from Nicholson, Pa; and Gabrielle Marcantoni., a sophomore art & design major from Slatington, Pa.
More than 200 students from East Stroudsburg University of Pennsylvania are participating in 'Adopt-A-Block,' a program sponsored by the university's Office of Health Education and AToD (Alcohol, Tobacco and Other Drugs) Prevention in which students pick up trash from streets in East Stroudsburg Borough.
According to Health Education & AToD Prevention Coordinator, Alyson Patascher, 20 groups have signed contracts and are working to clean up 21 streets. The initiative began last semester and will continue throughout the 2013-14 academic year.  Among the groups represented so far this semester include the Health and Physical Education Club, the Exercise Science Club, Contemporary Dancers, the Athletic Department, the Biology Club and Rotaract. Registered groups must clean up their respective street at least one a month.
For more information, contact Patascher at apatascher@esu.edu or 570-422-3298.
---
---