Seven ESU Students Who Attended Presidential Inauguration Seminar and the Inauguration of President Barack Obama to Speak at Campus Forum
Seven East Stroudsburg University of Pennsylvania (ESU) students who attended The Washington Center (TWC) Presidential Inauguration Seminar and the second inauguration of President Barack Obama will share their experiences during a program at 2 p.m., Monday, February 18, 2013, in the ESU Student Senate chambers. The program is titled "We Witnessed History: The Second Inauguration of the First African-American President of the U.S." The participating students are Nathaniel Sanders, a freshman majoring in business administration from Brodheadsville, Pa.; Kwaku Adjei-Bohyen, a junior majoring in political science from Edison, N.J.; Ryan Stevens, a junior from East Stroudsburg, Pa., majoring in political science; Myia Woodson, a junior from East Stroudsburg, Pa., majoring in political science; Amy Majani, a junior political science major from East Stroudsburg, Pa.; Lyesha Fleming, a senior psychology major from Blakeslee, Pa.; and Tyler Day, a junior political science major from Milford, Pa.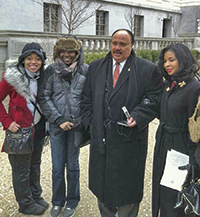 The intent of ESU students' participation was for them to gain a first-hand practical understanding of the details and nuances associated with presidential inaugurations.  During the seminar program, from January 12-22, the group toured the D.C. area and heard political leaders and White House news correspondents discuss presidential campaigns, elections and national policy.  Kimberly S. Adams, Ph.D., ESU associate professor of political science and campus liaison to TWC, served as a faculty leader and accompanied the group. Dr. Adams secured inauguration tickets for all 17 students under her direct supervision — seven from ESU and 10 from Bloomsburg University of Pennsylvania.
"I am thrilled that our students got the opportunity to witness history," said Dr. Adams.  "Participating in the seminar and attending the inauguration left an indelible mark upon their lives. We had a blast!"
TWC, an educational non-profit, non-partisan organization, provides specialized internship opportunities in Washington, D.C., and abroad to thousands of students from hundreds of colleges and universities nationally and worldwide.
The seven students were chosen from a campus-wide application announcement and were selected in November 2012. After attending, the students were to write a research paper about the program, interview a politician who serves in local state or national office and participate in the campus forum.
The seminar will be sponsored by the ESU Department of Political Science and the ESU Office of Diversity and Equal Opportunity. For more information about the forum, please contact Dr. Adams at 570-422-3924 or at ksadams@esu.edu.  For more information about ESU's political science programs, visit www.esu.edu, or to learn about The Washington Center, visit http://www.twc.edu/seminars/programs.
---
---