Silverback Distillery's Riggleman "Women Who Distill" Featured at President's Distinguished Entrepreneur Speaker Series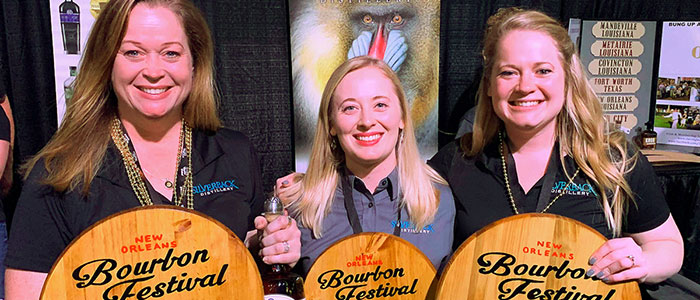 Posted by: Elizabeth Richardson on October 30, 2019, No Comments
Christine Riggleman, CEO and master distiller of Silverback Distillery, along with her daughters Lauren Riggleman, assistant distiller and general manager, and Abby Riggleman, general manager for Silverback's Poconos location and the media director for the company, will be the featured speakers at the East Stroudsburg University President's Distinguished Entrepreneur Speaker Series on Tuesday, November 19 at 7 p.m. in Beers Lecture Hall.
The Riggleman "Women Who Distill" will share their story on how they developed a women-owned internationally-recognized distillery with locations in the Blue Ridge Mountains of Virginia and most recently in East Stroudsburg, Pennsylvania. Led by master distiller Christine Riggleman, the Silverback Distillery story is inspiring and rooted in her fascination with distilling while on a tour of Ben Nevis Distillery in Scotland in 2012.
Christine Riggleman was born and raised in Manassas, Virginia, She married her high school sweetheart, Denver, at the age of 19. Shortly after, Denver joined the Air Force, and their journey across the United States and far-off lands began. Christine earned a scholarship from Le Cordon Bleu Culinary School in 2000 but due to her husband's military career, she turned down the offer. Christine's passion for culinary delights never wavered and eventually veered into the world of extraordinary spirits. After becoming fascinated with distilling on a tour of Ben Nevis Distillery in Scotland in 2012, she began researching distillation and the maturation processes. In 2014, after a year and a half of strenuous planning, research and construction, Silverback Distillery opened its doors, and since opening, has earned 21 international awards and numerous local and statewide awards. In 2014, Christine was named one of the top gin distillers in the United States through MSN.com, and in 2017 she was the first person inducted into the ABV Network's Bourbon Hall of Fame.
Lauren Riggleman, assistant distiller and general manager, is a second-generation distiller. She received her undergraduate degree from the University of Virginia in 2015, and received her Master's degree in Fermentation Sciences: Brewing and Distilling from Heriot-Watt University in Edinburgh, Scotland in 2017. While spending a year in Scotland, Lauren became a member of the Institute of Brewing and Distilling (IBD) where she researched the similarities and differences between Scottish and American distilling and brewing practices. She is now an official worldwide tutor for IBD, helping prepare students to pass their exams. Lauren has appeared on the ABV Network's podcast The Bourbon Daily a number of times and joined her mother in the ABV Network's Hall of Fame as the 39th inductee. Lauren is also teaching the first General Certificate in Distilling Course at Piedmont Virginia Community College in Charlottesville.
Abby Riggleman, general manager for Silverback's Poconos location and the media director for the company, takes great pride in creating the award winning designs of the brand, from the bottle labels, to menus and media. After studying media arts and design at James Madison University and film directing at the University of Edinburgh, she switched gears in 2017 to move to Stroudsburg, Pennsylvania to oversee the opening of Silverback Distillery Pocono, the second production and tasting room location. Silverback Distillery Pocono officially opened its doors in October 2018 and has been thriving ever since. Abby is using her documentary skills to capture her family's story through their hardships of regulations, taxes, and their triumphs as they become a nationally-recognized and distributed brand. Abby also creates her own whiskey scented candles that are available for sales at both distillery locations.
The President's Distinguished Entrepreneur Speaker Series was launched in April 2017 and continues to bring exciting and engaging speakers to campus. The Series brings entrepreneurs to ESU's campus to talk about the various challenges they've faced in their careers as well as life experiences and educational opportunities that have guided them on their journey. Past speakers in this series include Dan DiZio '95, founder of Philly Pretzel Factory; Dr. Sam Niedbala '82, CEO of CryoConcepts, LP; Steve Somers, owner/president of Vigon International; Ryan McMunn, CEO and founder of BRIC Language Learning; and Chris Paradysz '83, Co-CEO and founder of PMX Agency.
Support for the President's Distinguished Entrepreneur Speaker Series is provided by The Dr. Gere B. Fulton '60 Lectureship Endowed Fund. For more information or to register for this event visit esu.edu/pdess or call 570-422-7920. Admission is free.
---
---