Students Use Spring Break to Help Rebuild Communities Devastated by Hurricane Sandy
Two East Stroudsburg University of Pennsylvania (ESU) students were among college students from around the country helping to rebuild communities devastated by Hurricane Sandy through an effort by United Way and MTV. As part of an alternative spring break, MTV teamed up with United Way and mtvU, MTV's 24-hour college network, to bring 50 college students, including Danielle Tretola and Dominique Rucker of ESU, to the New York / New Jersey area for an alternative Spring Break called "Spring Fix."
Rucker, a freshman from Fairless Hills, Pa., who is majoring in media communication and technology, said her efforts during ESU's spring break were rewarding. "My group was sent to Long Beach in Long Island, N.Y. from March 18-22 to help restore a home for a man named Dave Juan and his family," said Rucker. "A lot of work needed to be done with fixing his home. When we first arrived, Dave's basement was filled to the top with sand that had to be shoveled and carried out by buckets.
Afterwards, the group worked on different tasks like installation, siding, scaffolding, demolishing, and more. The house still needs work, but with the amount of time we had, we completed a large amount of work. I couldn't have asked for a better way to spend my week. We didn't give up our spring break, we took advantage of it."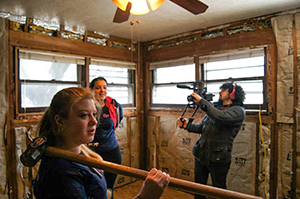 Danielle Tretola, who is president of the ESU Residence Hall Association and a junior majoring in communication studies on the speech communication track, also participated in Spring Fix. Tretola said she was happy to represent ESU through this project. "There were 50 students split into five groups of 10," said Tretola. "Everyone stayed at the Robert Treat Hotel during the week, which was March 17 to 23, and Monday through Friday my team drove to Union Beach, N.J. Monday through Wednesday morning we worked on the home of an elderly couple whose entire first floor had been submerged under 37 inches of water. Everything was destroyed. We laid down the second layer of subflooring and put up drywall and insulation-for most of us this was our first taste of construction. We had a site manager named Jim, who is working sorely on Sandy projects. Jim decided quickly that I learned fast, and he taught me a lot as he decided he could trust me and really get help from me. Wednesday afternoon and all of Thursday my team went to a second location. This location was pretty much in the same condition–the first floor was completely gone. We laid down the first layer of subfloor. I was sitting and balancing on the rafters of the basement screwing screws into the brand new floor–talk about a rush! We also had to rip away the original siding and put up a new first layer, which required balancing on ladders and working with a hammer, stapler, and power tools, and I had a lot of fun balancing on the ladder. Friday, our last day of work, we went to a third house and put in the beginnings of a new wooden privacy fence. Throughout the week my (self-proclaimed) specialty was the electric screwdriver, I think I enjoyed it a little too much!"
"After the last night, each group spoke about their experience throughout the week, and I said something that seemed to ring true for the entire group," said Tretola. "I looked around, with tears in my eyes, and said to the group, 'All of us are in college, and we're all trying to figure out the meaning of life. I found it this week.' To help others who can't help themselves–for nothing in return–is a beautiful thing, and I am so grateful for the experience. I met a lot of amazing people and this is a week I will remember for the rest of my life."
MTV said celebrities were also joining in the Spring Fix effort, including: Andrew Jenks of MTV's "World of Jenks"; Vinny Guadagnino, former "Jersey Shore" star who will also host the new series "The Show with Vinny"; New York Giants All-Pro Defensive End Justin Tuck; "The Challenges" alums Kenny Santucci and Evan Starkman; and Averey Tressler and Johnny Reilly from the upcoming season of "Real World Portland." MTV cameras were on the ground capturing all the Spring Fix activities, and the Spring Fix coverage is currently airing during a special spring break themed week on MTV and mtvU. Special Spring Fix programming will continue to air on mtvU throughout the week of April 8 and can be seen on demand at SpringFix.MTV.com.
To thank the 50 students for their service and raise funds for United Way, Six Flags Great Adventure, in Jackson, N.J., hosted a Spring Fix benefit concert on March 23. The cast of "Jersey Shore" reunited to thank the student volunteers with a day of roller coasters, games and giving back, helping to raise funds for United Way. Tretola and Rucker were among those who attended the concert.
"Luckily, for me and the other spring fix volunteers, we were able to get front row and enjoy an amazing show," Rucker said.
"I was right in front of the stage," said Tretola. "It was amazing! All of the performers put on a fantastic show!"
Other service projects were planned with United Way in locations in New York, including The Rockaways, and Staten Island, and in Monmouth County and Ocean County in N.J. MTV's Spring Fix efforts are a continuation of the sustained effort by MTV to help rebuild Seaside Heights, N.J., and other areas devastated by Sandy.
In 2006, MTV partnered to host the first ever United Way Alternative Spring Break, with students from around the country trading the typical beach parties and nights out to go to communities in the Gulf Coast to help with long-term recovery efforts following Hurricane Katrina. United Way Alternative Spring Break has offered thousands of young people the opportunity to do meaningful service since inception.
mtvU, featuring programming developed specifically for and by real college students, is available in the ESU University Center food court and other locations on campus. For more information, please contact John Robinson, director of the ESU University Center and Student Activities, at 570-422-3607 or by email at jrobinson@esu.edu.
---
---