Warriors to Watch: Two ESU Grads Aim for Stardom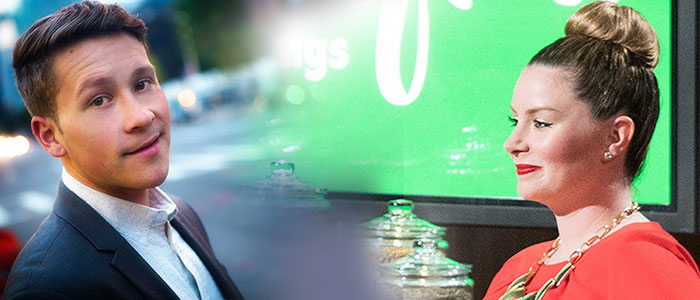 Posted by: Elizabeth Richardson on November 1, 2017, No Comments
Jenni-Lyn Williams was nearly eight months pregnant when she flew to Los Angeles to film an episode of the hit ABC television show "Shark Tank" in June.
The show's producers were worried that Williams, who graduated from East Stroudsburg University in 2009, wouldn't be able to board a plane that close to giving birth. But there was no way she was missing the opportunity to be one of the show's entrepreneurs competing for business deals and to promote her new company "Snarky Tea."
"I would have walked there if they wouldn't have let me fly," Williams said.
The "Shark Tank" episode airs 9 p.m. Sunday, Nov. 5 on ABC.
November is an important month for another ESU alum, singer Rich Hennessy, who is just as hungry for success. Starting at 5 p.m. Saturday, Nov. 11, he is competing in a global talent competition called MEGASTAR with the top prize being $1 million.
Hennessy, who was ESU Student Senate president before graduating in 2012, was first runner-up in MEGASTAR's test launch last year. He was flown out to San Francisco where the company shot a video of him and a YouTube interview. In September, he opened for the rock band Smash Mouth at a festival in Hennessy's hometown of Carteret, N.J. and so far his song "More" has nearly 125,000 views on Facebook.
The MEGASTAR competition is taking place entirely through a mobile app that is available for download now. Starting November 11, anyone with the app watch Hennessy's short video and vote. He's hoping the ESU community will give him a big boost in the contest, which features artists from around the United States and several other countries.
Hennessy, who majored in business management and minored in theatre, sang in ESU's musical revue "Broadway Memories" under the direction of Terry L. Flatt, who's now an associate professor emeritus of music. Hennessy started taking vocal lessons while at ESU with Wendy Grice, Ph.D., an adjunct faculty member at the time.
"She opened my eyes to a whole new world of vocals and kind of built the foundation of my voice," Hennessy said. "She was a huge inspiration to me. She had faith in me which gave me confidence in myself."
He had other mentors, including Theatre Professor Margaret Joyce Ball, D.M.A., and loved his time at ESU.
"ESU is and always will be my second home," he said.
Hennessy moved to New York City last fall. For last year's MEGASTAR beta launch, he came in second out of 350 competitors. For this year's contest, there will be three rounds of voting as artists vie for the $1 million prize.
Visit megastarapp.com to learn more about the competition, download the app, and vote for Hennessy.
Williams, who also majored in business management with a concentration in marketing, was working at Lincoln Financial Group in Radnor, Pa., and studying for an MBA at Villanova University when a doctor told her she was drinking too much coffee and should switch to tea. She recalls going to the coffee bar at work where teas had names like Hibiscus and Dandelion and joking that if there was a tea called "Wake the f*** up" she would know just what to order.
From that joke came her inspiration to start the Snarky Tea company that sells teas that help you wake up and others that help you calm down and sleep, each with a snarky name. The tea is grown in China, imported to Florida and then packaged for shipping in the Philadelphia area and suburbs.
In researching tea, Williams found that it has benefits that should appeal to different sorts of people but it is usually marketed toward yogis and health enthusiasts, rather than the general public. Williams hopes Snarky Tea broadens the market and becomes a great gift idea for friends.
"The brand really is about sisterhood," said Williams, who calls herself the "chief snark officer" of Snarky Tea.
Williams learned her early lessons by working on a marketing survey for the Pocono Mountains Visitors Bureau, near ESU. That taught her how to apply what she'd learned in the classroom in the business world.
She was a transfer student to ESU and loved it so much she convinced her sister Victoria Vogt to attend. Vogt graduated last spring.
"It was just the best college experience," Williams said. "I think it's a really unique university. It feels like people are really trying to help each other."
She and her husband, Dave, who graduated from ESU in 2005, are raising their children, 2-year-old Eloise and 2-month-old Benjamin, in Sarasota, Fla. where they moved in May.
Williams is excited about the Shark Tank episode but said she isn't allowed to say much about it in advance. The "sharks" – business moguls who evaluate the entrepreneurs' products and business plans – were really smart and gave her good advice.
She hopes it will give Snarky Tea a bump just in time for the holiday gift-giving season. Snarky Tea is in about 50 gift stores around the country but nearly 85 percent of the company's sales are online. Williams was floored when she heard a photo of her with business mogul Bethenny Frankel appeared on the "Ellen" show earlier this month.
"That was the most surreal thing of all," she said.
---
---