With Socks and Service, Students Enhance the Community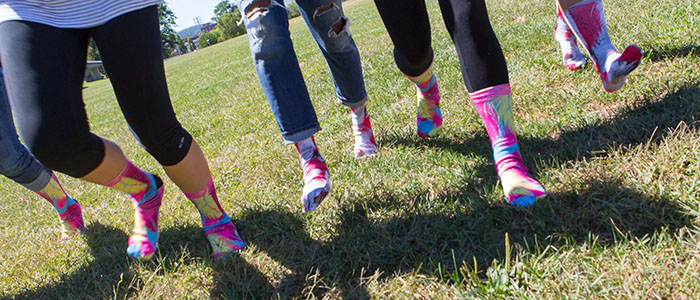 Posted by: Elizabeth Richardson on September 14, 2016, No Comments
Photo: ESU students, faculty and staff team up with 35 area partners for 2016 Community Service Fair.
"Don't call me the sock guy," David Mazure, associate professor of art + design, said as he began to explain his latest community service endeavor, Join the Flock. Mazure decided to design socks after a conversation with Mary DeVito, Ph.D., professor of computer science. DeVito read about college students in Tallahassee, Fla., who began selling socks for an entrepreneurship class. For every pair of socks sold, they donated a pair to a homeless shelter. With the help of Entrepreneurship Across the Colleges grant funded by a D2PA grant received from Tecbridge, Mazure and DeVito decided to begin a similar initiative at East Stroudsburg University.
Step One: Design the socks.
Mazure designed two pair of socks. One in bright neon colors, and the other, of course, red and black for ESU.
Step Two: Turn the design into actual socks.
This summer Mazure contacted manufacturers nationwide to find the company to produce cost effective, high quality socks.
Step Three: Put the socks on.
The socks will debut at the ESU Community Service Fair on Thursday, September 15. Students, faculty, staff and community members will have the opportunity to purchase two pairs of socks with the intent of keeping one pair and donating the other to charity. "It's a great way to get people to make a conscious decision about where they donate," Mazure said.
Join the Flock won't be the only charity at the Community Service Fair. Intended to help students engage in service-based learning, the fair will have representatives from 35 local nonprofit agencies including Meals on Wheels, United Way, American Red Cross, The Good Project and Crossroads RHD, a supportive housing program providing service to people who have serious and persistent mental illness, and who have experienced homelessness. Students can connect with these agencies to set up volunteer and/or internship opportunities.
"Service-based learning such as volunteering or interning with a nonprofit gives students the professional soft skills that they don't necessarily learn in the classroom," said Daria Wielebinski, director of the career development center at ESU. "Students get hands-on experience that looks great on a resume and has a lasting impact."
For students like Peter Gass, community service has paid off. Gass began as volunteer with the United Way of Monroe County during the Spring 2014 semester. "Volunteering provides a lot of experience and connections." It was through connections made as a volunteer that Gass was able to land an internship with Pocono Medical Center before graduating with a B.S. in public health in 2015. Gass, now a graduate student in ESU's Master of Public Health program, is employed by the United Way of Monroe County as an administrative and project officer. He believes community service is a necessary tool to build professional connections. Gass like Mazure believes that community service in an invaluable experience.
For more information about the Community Service Fair contact Daria Wielebinski in the Career Development Center at 570-422-3219.
---
---