With Tools From ESU, Alumna Helps Kenyan Children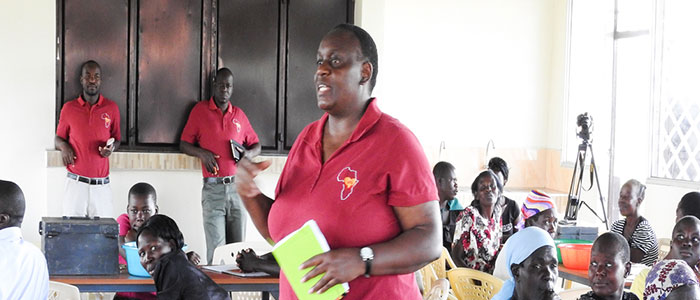 Posted by: Elizabeth Richardson on June 21, 2018, 2 Comments
When Beldina Opiyo returned to her village in Kenya in 2008 after a decade in the United States, she was heartbroken by the devastation caused by the HIV/AIDS epidemic.
By that time, she had already lost 10 family members to the disease.
"I was shocked, I was overwhelmed and was just so worried about the many orphans I saw sitting at home and not able to go to school or even get something to eat in my village," recalls Opiyo '02 M'04.
But she brought with her tools for dealing with such public health crises, tools she had learned while earning her bachelor's degree in community health and master's degree in public health at East Stroudsburg University. She chose public health to improve the lives of those in her village.
"I took advantage of everything I could find that would be helpful to me," Opiyo said. "The support I got from everybody at ESU was great. I had that passion of wanting to come back to my country and use that knowledge and experience I got at ESU to help my community."
While still a student, Opiyo became a volunteer board member for AIDSNET, a non-profit group in Bethlehem that works with HIV/AIDS patients, and she later worked as its program manager. She also served in other public health positions and was an adjunct instructor at ESU.
But she never lost sight of the desperate needs in her village of Amilo. In 2005, while still in the U.S. she founded the Alice Visionary Foundation Project (AVFP). Since then, the non-profit group has partnered with other non-governmental organizations and worked with thousands of Kenyans on needs ranging from education to nutrition to medical care.
AVFP started a lunch program at schools in Amilo and the nearby city of Kisumu that increased children's attendance by 50 percent.
"For them, that is the only meal they will have in a day," Opiyo said. She's working to get the communities to contribute food to make the lunch program sustainable for the long term.
The teachers appreciate it because full stomachs lead to the kids being able to better concentrate on their lessons. The group has also started girls' clubs and boys' clubs that encourage children to further their education and teach them leadership and life skills. Opiyo and her staff also instruct on how to discipline children in positive ways.
"It's very interesting because most of our public schools practice corporal punishment where they're caning kids," Opiyo said. "So we find with this training the whole school changes its attitude. The kids are telling us that the teachers are friendlier. Instead of caning a child because they're late, they're able to ask why they're late, what's happening at home."
For some orphans whose parents have died of AIDS, AVFP has taken care of the children and paid for their education. One little girl named Millicent lost both her parents to AIDS within two weeks.
"We were like family to her," Opiyo says. "AVFP paid for Millicent to go to a two-year college to study nutrition and now she has a job."
Another orphan, George, had quit school and lost hope when the group began caring for him. A visiting medical student from Columbia University in New York City who was working with AVFP told the boy he could become a doctor one day and gave him some scrubs.
"That afternoon just changed his attitude," Opiyo said. "When he went back to high school he did well, he got into medical school, and right now he's a [physician assistant] in Kisumu. We paid for his medical training college."
The Alice Visionary Foundation Project is named for Opiyo's late mother, Alice, who raised eight children, including two orphans, and inspired them all to pitch in on chores regardless of whether the tasks were considered traditionally male or female.
She recalls her mother, a lay pastor, telling Opiyo's brothers: "When you grow up I don't want to hear that you are eating in a restaurant because you can't cook!"
"She kept telling me if you do not want people to step on you, you need to get a good education," Opiyo said. "So that really inspired me."
It was Opiyo's brother Paul who convinced her to apply to ESU. Paul and his wife, Regina graduated from ESU in 1996 and they currently work in Harrisburg. Beldina was accepted at ESU in the fall of 1998.
"It was such a privilege," she says.
Opiyo met AVFP co-founder and board president, Sandy Rader, and two other board members through the Presbyterian Church of the Mountain in Delaware Water Gap, where she was a member. The church continues to support their efforts.
In July, Elaine Rodriguez, ESU instructor of public health and undergraduate internship coordinator, is taking four students to Kenya to work with Opiyo and AVFP on a month-long needs-assessment project. Rodriguez's students, in collaboration with AVFP, will be developing a survey, collect data from Kenyans, analyze the information and write a report.
Last April, while on a trip to the U.S., Opiyo was a guest speaker for Rodriguez's class on global public health. Rodriguez said Opiyo's commitment to her mission was contagious and she energized students to get involved.
"She has been an inspiration for many of my students," she said.
---
---
---