Twitter: @BrianonBroadway
Brian Silva is a senior studying Communications at ESU. He is the current Program Director here at WESS Radio, and runs the show Brian on Broadway, the show brings you several different cast recordings from the many New York Broadway Shows through out the years as well as updated news of all things Broadway. You can catch this one-of-a-kind FM show Fridays from 4-6pm on WESS Radio!
Keepin' it in the 70s with major cords, a thumping bass, rap-tap-tapping drums, all formed around a rhythm guitar.
I host and produce two programs, both airing live on Saturday mornings. In reverse order of their real-time, live broadcast, they are: Jazz for the Common Man: 3 Hours of the best in Jazz from the venerable veterans to emerging artists. First hour–assorted artists and styles; Second hour–the Complete Jazz Album set; Third hour–reserved for listener requests: 570.422.3133 or 3134. The program has aired regularly since 1983 from 0900-noon ET.
I also present

Alternating Currents

: An hour of Acoustic, Electronic, New Age, Ambient, World and Space Music, offered since ~1985 from 0800-0900 ET, immediately preceding

Jazz for the Common Man

.
Both programs aspire to paint with a broad brush.
Jeff Quake is a Junior here at ESU, majoring in Communications. WESS Radio is a huge part of his life where he can express his compassionate for radio and sports. From Glenmoore, PA, Jeff is a diehard Philadelphia sports fan who grew up loving hockey and baseball. Tune in on Saturdays from 11-12 and Sundays 12-1 for his show RPF Hockey.
Description: DJ ShaE (with an E) is a Communications/Broadcasting Major Junior here at ESU and this is her fifth semester with us. She is the co-host for the show "2 Copper Coins, 1 hour to Empower" which airs every Monday from 6pm to 7pm. This show provides inspirational messages along with great music from different genres and so much more, want to be inspired? Tune in!
DJ Cookie is a spring 2016 Graduate of ESU and a current employee. She host the "It Is What It Is" show which airs every Monday from 6pm to 7pm. This show provides different facts/opinions on the many topics of today's world. It also provides great music from different genres and so much more. Tired of the same old selection? Tune in!
Twitter: @imcherrypoppins
Instagram: imcherrypoppins
What's goin' on everyone!? I'm Cherry Poppins the host of one of the best shows at WESS, Heart2Heart. At Heart2Heart it's all about giving the listener a dope experience, and having them coming back for more.  We talk, sing, interview, laugh, cry, you name it, we do it; all while bringing the cool sounds of the latest Hip Hop and R&B. Make sure you check us out every Tuesday at 10PM on the station that likes it when you turn us on, 90.3 WESS.
Twitter: https://twitter.com/LIZ_be_honestx
Liz Roberts, the News Director here at WESS, is a Sophomore, majoring in Communications with a concentration in Broadcasting. She is also the Marketing Chair for the Campus Activity Board, here at ESU. She is from Harleysville, PA, and enjoys going to concerts. Be sure to catch her show "Sound Check" with her co-host Ian Brown on Wednesdays from 3-5pm. Follow Sound Check on twitter @SoundCheckWESS!
Jillian 'Jill' Deiley is DJ Deiley Coyote on the 90.3 fm WESS airwaves! She majors in communications with focus in broadcasting and mass media. Raised in Leesport Pennsylvania, she enjoys roller disco, walking her dog, Attacus, and rockin' out to rock music both timeless and cutting edge. She joins Greg Curtis on their New Music Block Tuesdays from 9-10pm and howls solo on her own show, Dark Side of the Tunes, Wednesdays from 7pm to 8pm. Be sure to follow her on twitter @DJDeileyCoyote for more music, playlists and awesome retweets.
Shane is the current Sports Director at WESS radio, majoring in Communication Studies in Broadcasting. Aside from broadcasting live ESU sporting events, he runs the Rush Hour Sports, Wednesdays from 5-6pm. He also joins Greg Curtis to argue his opinions on Hangin' Bang Tuesday's from 7-8pm.
Jasmine Amro is a sophomore majoring in Communications with a concentration in broadcasting. Hailing from Jefferson, New Jersey, shes runs cross country and track here at ESU. Amro enjoys meeting new people and getting to know them for who they really are, "that's why I like to conduct interviews here at WESS Radio". She has a show called "Warrior Report" every Wednesday from 10 to 10:30pm, in which ESU athletes come on and show who they really are. Be sure to follow "Warrior Report" on Twitter @warriorreport and Instagram @esuwarriorreport.
Rick Franzo is a WESS Alumni, having been a DJ while at ESU in the mid to late 80's. He is the host of Catch The Brain Wave, one of the only shows on the planet focusing on brain tumors and brain cancers airing Fridays from 6-7pm. Rick is a 2x brain tumor survivor, and works for Barnes & Noble College Bookstore on the campus of ESU.
Adriana Torres is a Senior majoring in Communications Studies with a concentration in Public Relations and a minor in DMT Photography. Raised in Queens, New York, I enjoy taking pictures of friends and concerts. I love alternative and lofi/punk music.Catch my show Mondays at noon.
Jordan McCoonse is DJ Jam in "The Soundwave", playing a variety of music from Fridays from 1-2pm. Catch her on her twitter! @DJ_JAM24
Taylor Drew is a senior majoring in vince Work. Starting back in 2013, she plays alternative and classic rock and throws a little bit of country in the mix on her show. Be sure to catch her show "Crossroads " on Monday nights from 8-9pm.
DJ Name: A.M. Cool J.
Twitter: @Spare_key95
Music is ever changing and infinitely diverse. In an attempt to pay tribute to every kind of music at my disposal, my show features a very wide variety of music genres. Pull up a chair and pull on some headphones! My hope is that any set of ears can find something to enjoy on "All That and Then Some."
Susie Forrester is a local freelance and fine art photographer, currently shooting for ESU. Originally from the Philadelphia area, Susie came to the Poconos to attend ESU, back in the day. A Sociology / Criminal Justice major, she took a photography class in her senior year…and this changed the direction of her life. Susie has shown her work nationally and has been published in fine art photography journals. Check out her websites: susieforresterphotography and forresterphoto.com. She also posts pictures on her Twitter @Seemore7 and Instagram as susie_forrester
Music has been a love of Susie's since she was a child. To be a DJ is a "dream come true". And she loves it!!! She plays cutting edge new music like The Bots, to punk rock like The Clash, to classic favorites from Bob Dylan to The Talking Heads. Check out her show Zen Arcade, Tuesdays from 1-2pm.
Melissa (DJ Ice) is a senior Communications Studies major with a double concentration in Broadcasting and Public Relations. She joins DJ Yolo Thursdays from 7-9 PM. You can find them on there Twitter @BROHAHA_WESS
Amanda (DJ Yolo) is an Art & Design major with a concentration in Graphic Design from Middletown, NJ. She joins DJ Ice on BROHAHA which airs Thursday nights from 7-9 PM. You can find them on there twitter @BROHAHA_WESS
DJ Fire (Vincent Gervasi) is a Sophomore majoring in Digital Media Technologies with a focus in Video & TV and a minor in Communication. He is also the Communications Coordinator for the National Broadcasting Society and the Social Media Director for 90.3 WESS and East Stroudsburg University Warrior Bands. At the end of his college career, Vince hopes to land a job in either Philadelphia or California where he hopes to be doing something in the media industry. You can catch his show "The Fabulous Show" on Wednesdays from 2-3 PM.
Brittany Winfield is a senior, majoring in Communications and minoring in Digital Media Technology. Raised in Newton, NJ, the only thing she loves more than listening to music is singing to it. Be sure to catch her show "Good Vibes," on Thursdays from 6pm-7pm. Make sure you follow her on Twitter @GoodVibesOnWESS
Justin Elliot is a junior, majoring and focusing in Broadcasting. Raised in Nazareth, PA, He enjoys to film skateboarding as well as taking to the board himself. He listens to all music, especially smaller unknown bands like The Beach Fossils. Catch his show where he lets music do the talking. He lays the beat down Wednesdays from 8-9pm. People can find him on his skateboard or on Twitter at @justin61oh
Connor Scovil is a senior, majoring in Communications and currently the Music Director at WESS Radio. Raised in Scotrun, he enjoys video games and reading the daily paper for current events. He also indulges himself listening to music of the rock, pop, alternative and metal varieties.
Andrew King brings out the spirit of The Fab Four on his WESS show "Beatlemania". Majoring in Special Education, the king enjoys hanging out with friends and geeking out about the newest music. You can find him here Mondays from 9-10pm.
Senior majoring in Social Work. Enjoys walks on the beach and browsing dank memes
Prepare to be schooled Fridays at 3 by WESS's education director on his show Daytime Radio. Also catch him as a co host on the intellectual ensemble show DJs of the Roundtable Wednesday's 10-11pm
You have to ask yourself one question, are you skanky enough? Skanky Mike is a Senior, majoring in Digital Media and a concentration in Web Design. Raised in Hackettstown, NJ, he enjoys music, outdoors, and movies. Be sure to catch his show "Friday Morning Dump" on Friday's from 10am-12pm. Hit me up on Twitter #SkankyMike
Twitter: @Abel660
Abel Guerrero gives you in-depth analysis of all NFL games and team. Who also loves to throw out information about fantasy football.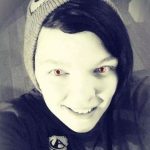 DJ Borealis
Twitter: @borealisdemons
Sophomore majoring in Communications and part of the WESS and PRIDE organizations.
Facebook: Katelyn Schulze
Twitter: k_atie13_
Instagram: k_atie13_
Senior majoring in Communication. Lover of the earth, hiking and kayaking. Avid concert goer who enjoys all the jams. Grateful to have found WESS and the radio scene. Check out The Appalachian Get Down Wedensday's 12-2pm and DJ's of the Round Table Wednesday's 10-11pm!
Sophomore majoring in Communication, minoring in Business Management.
Twitter: @j_smith07920
Sophomore majoring in Communication, focused on broadcasting. Host of "Nashville, PA" Friday mornings at 11. Long Island born and raised. Lucky to have been introduced to WESS and all the wonderful people who are a part of it. Lover of baseball and country music.
Twitter: @MLutzkerESU
Instagram: @max_lutzker
World renowned scholar and arguably the most attractive member of WESS, DJ Mellowmarsh hosts two shows: Whatever I Feel Like, and Not So English. He is also a co-host of the sleek talk show DJ's of the Roundtable. When not rocking your mother's socks off with his spicy taste in jams, you can find Mellowmarsh either sculpting out 3D versions of the most famous Renaissance era paintings, or receiving thigh massages from panda bears.
More DJ Profiles to be posted and updated soon