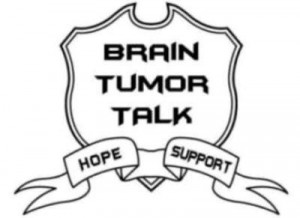 Brain Tumor Talk (formerly called Catch The Brain Wave) is a show like few others on the airwaves or on the internet! This is a show dedicated to brain tumors and brain cancers!  This is a place where stories of survival will be shared, we discuss brain tumor issues, new treatment options, and bring not only awareness, but action, not just words! This is also a special place to support all those fighting brain tumors and brain cancers, admire and recognize the survivors, honor those who have been taken, and spread a message of HOPE! We also play some great music here too!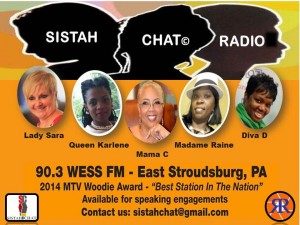 Sistah Chat
DJ: Producer / Host / Media Contact:  Madame Raine ("The Voice of Showered Blessings")
Guests Hosts: Queen Karlene "The Voice of Hope", Mama C "The Voice of Wisdom", Lady Sara "The Voice of Style", Debbie Smith "The Voice of Distinction"
Facebook: Sistah Chat Official Page
Youtube: Sistah Chat
Every Wednesday at 6pm, Sistah Chat comes together to be a spirit-lifting, mind-enhancing pick-me-up that serves as a vehicle for the enlightenment of listeners who want to grow and evolve in positive and powerful ways at every stage of their human development. The show's Producer and Host Alicia Middleton (AKA Madame Raine), along with her Guest hosts Deborah Cofer (AKA Mama C), Sara I. Smith-Katz and Dr. Karlene Ferron will be broadcasting live to educate, encourage, promote and support the campus and community's ability to live their lives with passion, purpose and power.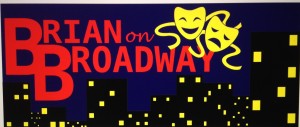 Brian On Broadway is a one-of-a-kind show where you can hear several different Broadway cast recordings throughout the years. Join DJ Brian as he discusses the plot, the music, and news of his featured shows for the week. You can revisit Broadway's special moments Fridays from 4-6pm on WESS Radio.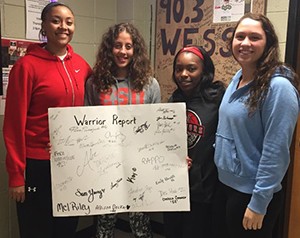 A radio show about our ESU athletes!We might see them in articles we read, or even have classes with them. But the real question is, do we know who they are as a person? What obstacles did they face with the sport they are in? You can learn more about someone when you take the time to get to know them, and when you listen, that's how you truly feel once it's over. So don't forget to tune in on Wednesdays at 10:00pm.  I post pics of the athletes I interview via social media and I think that's my favorite part at the end of the show J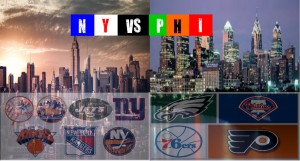 A Fight to the Finish!! Join Jeff and Michael on gameday as they mostly cover all New York and Philadelphia sports, but not forgetting the teams of the MLB, NHL, NFL, and NBA.  The duo clash with their cities of choice and talk all the sport coverage needed to have a sports-filled weekend! The show airs Sundays from 5-7pm.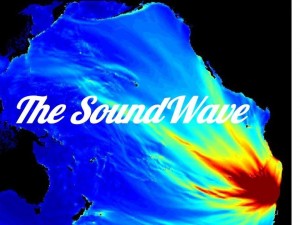 The Sound Wave first premiered on October 21, 2013. Hosting the show are DJ JAM and DJ Tsunami who play a wide variety of music to their listeners. So kick back and catch some Sound Waves on 90.3 fm.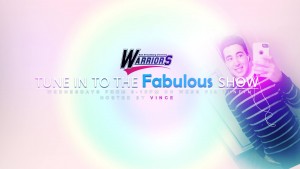 Join the "Fabulous" DJ Fire during "The Fabulous Hour" and active person at ESU. Tune in every Wednesday from 9-10PM, where he talks about loves everyone and everything and plays the greats in music, everyone from Top 40 to Alternative to Hard Rock!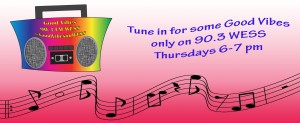 Playing only the best of Alternative Rock on Thursdays from 6-7pm!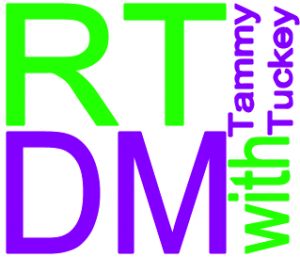 Tune in on Sunday nights from 8:00 to 10:00 PM Eastern on WESS 90.3 East Stroudsburg or online at Tunein.com to listen to Remember the Disney Magic Radio LIVE! Host Tammy Tuckey talks about the latest in Disney news, plays your favorite tunes from the Disney theme parks around the world, animated/live-action Disney films, Broadway and more.
Submit a song request here!
The Grunge Report
DJ: Greg Curtis
Join your host Greg Curtis Tuesday Nights at 8 pm for The Grunge Report. Enjoy the best grunge and rock music as well as funny news stories and everything new in science and technology. Its the perfect way to spend your Tuesday night, so make sure you tune in.
Madness With B-Boy Brandon
DJ: B-Boy Brandon
Providing hours of non-stop, dance-filled music since 2012, B-Boy Brandon delivers the right music to start the weekends right, with loads of Hip-Hop, R&B, EDM, and more!
HanginBang
DJ: Gmoney and Truth
Join Dj Gmoney and Dj Truth Thursday Nights at 10 pm on HanginBang. Its time to argue and fight over various topics from mythical creatures to science. Also featuring the best in R&B, Rap, Hip Hop, Grunge, and Rock.
RPF Hockey
DJ: Quake
RPF Hockey, featuring all of the Hockey coverage on 90.3 WESS that you need to know about the Reading Royals, Lehigh Valley Phantoms & the Philadelphia Flyers. It airs Saturdays from 12-1PM and Sundays from 11-12. Included are discussions about the NHL, AHL, the World Juniors, and the NHL Draft. There are also game recaps, previews, in game updates, and much more! Tune in on Saturdays from 12-1PM and Sundays from 11-12PM for RPF Hockey.