2018 Economic Outlook Summit – Monroe County: Where Are We Going? How Will We Get There?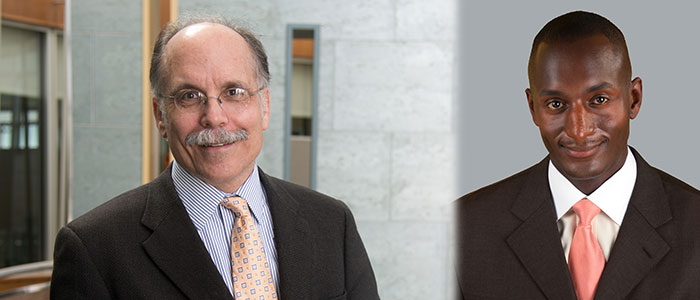 Posted by: Elizabeth Richardson on August 17, 2018, No Comments
The sixth annual East Stroudsburg University Economic Outlook Summit will be held on Friday, September 7, 2018 from 7:30 a.m. to noon in the Mattioli Recreation Center on the ESU campus. The theme for the 2018 Summit is "Monroe County: Where are we going? How will we get there?"
This year's Summit will feature Ed Morrison, J.D., founder of the Strategic Doing Process and Director of the Purdue University Agile Strategy Lab, and Randal Pinkett, Ph.D., serial entrepreneur and chair and CEO of BCT Partners.
Ed Morrison will facilitate a Strategic Doing exercise where together participants will address the question "Monroe County: Where are we going? How will we get there?" Randal Pinkett will inspire and challenge Summit participants to create an Entrepreneurial Monroe County and a place that attracts a diverse population and business base in his presentation, "Creating an Entrepreneurial Living and Working Environment in Monroe County."
The Economic Outlook Summit will also feature updates on the Monroe 2030 Action Team Work Plan and the fifth annual Monroe County Economic Scorecard which compares Monroe County to its neighboring counties, Carbon, Lackawanna, Lehigh, Luzerne, Northampton, Wayne, and Pike, in six economic indicators: earnings, business climate, employment, healthcare, education and housing.
Morrison developed the "Strategic Doing" methodology, a new collaborative discipline that generates innovative solutions. Strategic Doing answers the questions "Where are we going?" and "How will we get there?" by asking more questions "What could we do?"; "What should we do?"; "What will we do?" and "What is our 30/30?"
For over 25 years, Morrison conducted strategy projects throughout the United States. His work won the first Arthur D. Little Award for excellence in economic development presented by the American Economic Development Council. Prior to starting his economic development work, he worked for Telesis, a corporate strategy consulting firm. In this position, he served on consulting teams for clients such as Ford Motor Company, Volvo, and General Electric. He conducted manufacturing cost studies in the United States, Japan, Mexico, Canada, Italy, Sweden, and France.
Morrison started his professional career in Washington, D.C., where he has served as a legislative assistant to an Ohio Congressman, staff attorney in the Federal Trade Commission, and staff counsel in the U.S. Senate. He holds a B.A. degree from Yale University and M.B.A. and J.D. degrees from the University of Virginia.
Dr. Randal Pinkett has established himself as an entrepreneur, speaker, author and scholar, and as a leading voice for his generation in business and technology. He is the founder, chair and CEO of his fifth venture, BCT Partners, a multimillion-dollar management consulting, research and evaluation, information technology, and data analytics firm headquartered in Newark, N.J.
Pinkett has received numerous awards for business and technology excellence including the Information Technology Senior Management Forum's Beacon Award, the National Society of Black Engineers' Entrepreneur of the Year Award, and the National Urban League's Business Excellence Award. He has been featured on nationally televised programs such as The Today Show, Live with Kelly and Michael, Nightline and CNN. In 2009, he was named to New Jersey Governor Jon Corzine's official shortlist as a potential running mate for Lieutenant Governor of New Jersey.
Dr. Pinkett is the author of Campus CEO: The Student Entrepreneur's Guide to Launching a Multimillion-Dollar Business and No-Money Down CEO: How to Start Your Dream Business with Little or No Cash and co-author of Black Faces in White Places: 10 Game-Changing Strategies to Achieve Success and Find Greatness, which was named one of "The Best Books of 2010." He holds five degrees including a B.S. in electrical engineering from Rutgers University; an M.S. in computer science from the University of Oxford in England; and an M.S. in electrical engineering, an M.B.A., and a Ph.D. from MIT. Most notably, he was the first and only African-American to receive the prestigious Rhodes Scholarship at Rutgers University.
Current Summit sponsors and partners include:  Lehigh Valley Health Network, Met Ed- First Energy, St. Luke's University Health Network, Monroe County Bar Association, Monroe County Commissioners, Legends Properties, Inc., Northampton Community College, Pocono Mountains Visitors Bureau, Pennsylvania CareerLink, Pocono Mountains Economic Development Corporation, Connoisseur Media, Adams Outdoor Advertising, Pocono Record, Greater Pocono Chamber of Commerce, and the Pocono Mountains Keystone Innovation Zone. For information on sponsorship opportunities call 570-422-7966.
The Summit is open to the general public for $40 per person and includes breakfast. The cost for a table of eight is $300. Seating for the summit is limited and will be reserved on a first-come, first-served basis.
To register for the 2018 Economic Outlook Summit, contact the office of Economic Development and Entrepreneurship at 570-422-7920 or register online at www.esu.edu/econsummit.
2018 ECONOMIC OUTLOOK SUMMIT AGENDA
7:30 a.m.    Registration and Networking Breakfast
8:00 a.m.    Welcome and Opening Remarks – Marcia G. Welsh, Ph.D., ESU President
8:10 a.m.   Economic Scorecard Update Five Year Review and Trends
8:30 a.m.   Monroe 2030 Update: Commissioners and Monroe 2030 Action Team
9:00 a.m.   Edward Morrison, J.D.: Strategic Doing – Monroe County:  Where are we going? How will we get there?
10:45 a.m. Networking Break
11:00 a.m. Randal Pinkett, Ph.D.: Creating an Entrepreneurial Living and Working Environment in Monroe County
11:45 a.m. Closing Remarks – Marcia G. Welsh, Ph.D.
Noon         Departure
---
---