A Trans-formational Summer for Marine Science Senior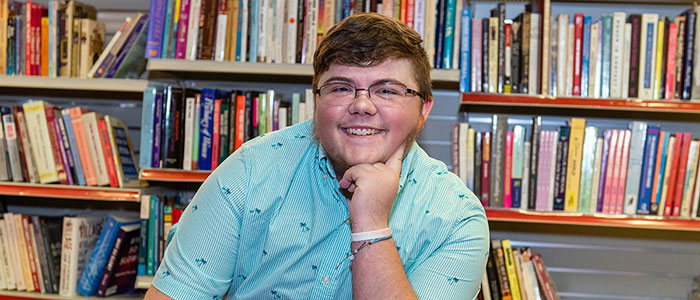 Posted by: Elizabeth Richardson on October 17, 2019, No Comments
Eli Johnson, a senior at East Stroudsburg University, received an e-mail in May 2019, but not just any e-mail. It was an invite for Johnson to present his work at The Philadelphia Trans Conference this past summer an opportunity that he describes as "falling into his hands."
Johnson, a marine science major and Wilkes-Barre native, has been heavily involved on campus, which has led him to opportunities that were once a dream and out of his reach, such as presenting at the conference in July.
The Philadelphia Trans Wellness Conference is the largest free trans-specific conference in the world that provides education on health service providers, networking, community building and systematic change and is held over a three-day period.
Johnson submitted his conference proposal in January and received an e-mail three months later with an offer he could not resist, and he "accepted without hesitation."
The program he developed was inspired by his own experiences as a transmasc individual titled, "Transformational Leadership: Acquiring the Tools You Need to Lead Your Own Life and Positively Influence the Lives of Others as a Transgender Individual."
"I realized that there are a lot of spaces within the world that weren't made for trans individuals. A lot of those spaces had to do with leadership, whether it's living your own life or trying to influence the lives of others. Being a person who was already established in those spaces, I had the thought of: 'no one taught me how to do this, I figured it out by myself.'"
Johnson explains that his goal for the program is to expand something that's available and accessible to everyone. It was an opportunity that fell into his hands this past summer, and that he gives thanks to ESU for.
"Being at ESU has helped me discover my confidence and sense of self. I've also been able to build a support network like no other," said Johnson.
Along with his studies, Johnson has been heavily involved on campus in many different areas: the Admissions Office, Student Affairs, numerous leadership positions in the Gender and Sexuality Center and a peer mentor coordinator. He is a student who is known for having a strong work ethic and a sense of responsibility from his peers and mentors.
"At ESU I've been able to establish a space where I'm able to be completely and utterly myself. Regardless, I'm very stubborn about being myself – I'll never believe something doesn't look good on me, but I've definitely been able to express my thoughts and ideas and be my whole-hearted authentic self."
Along with a close friend on campus, Dr. Eugene Kelly, Interim Dean of Student Life and Campus Life and Inclusive Excellence, have inspired him to live to his full potential on campus and reach outlets that would have been impossible without them.
He describes working with Kelly as "an eye-opening experience."
With his upcoming graduation in May, Eli see himself going to graduate school to further his studies in marine science or student affairs, with possibly squeezing in an amateur comedy career there somewhere. Johnson has truly fit the picture of what an ESU Warrior is throughout his time as a student on campus.
---
---