Berks County Publisher Finds New Horizons Through ESU Professional and Digital Media Writing Master's Program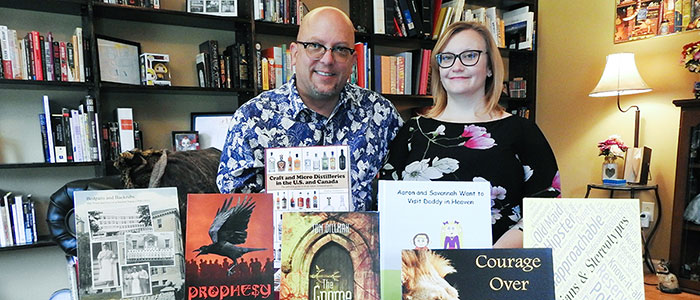 Posted by: Elizabeth Richardson on August 13, 2020, No Comments
With three academic degrees, her own publishing company and a full-time job as a library director, Christina Steffy might be expected to rest on her laurels.
Instead, Steffy is currently finishing her master's degree in professional and digital media writing at East Stroudsburg University. She embraced the online program as a way to enhance her writing skills while gaining new tools for her role as editor and marketing coordinator for Crave Press, the Leesport, Berks County publishing company she started with her husband, David J. Reimer Sr. Steffy and Crave Press were recently featured in a story on Berksmontnews.com
Launched in 2012, Crave Press publishes fiction and non-fiction in a variety of genres. The company offers an alternative to large traditional publishers that accept a tiny fraction of submissions and to so-called "vanity press" establishments that require authors to pay up front to get their books published.
"Major publishers take such a small percentage of what they're pitched every year," Steffy says. "There are so many wonderful things that don't get picked up by publishers, especially the major publishers."
But those authors who choose self-publishing pay all the costs and don't always get the professional services such as editing and the wide distribution offered by traditional publishers. All the books published by Crave Press can be found on Amazon, BarnesandNoble.com, and other outlets.
"The skills I'm learning with ESU help me be more creative and knowledgeable about tools to use for social media marketing and web design," Steffy says. "It really has been wonderful in terms of Crave Press and in terms of where I want to take my own writing in the future."
When she was looking for a master's program in writing, she was attracted to ESU's for its focus, quality and affordability, plus it offered classes completely online. In addition to her work at Crave Press, Steffy is director of library services and an adjunct English professor at Pennsylvania College of Health Sciences in Lancaster and an adjunct faculty member at the library science department of Clarion University. This leaves no time for a long commute to another campus for in-person classes.
At ESU she found great mentors.
"I've worked very closely with Dr. Sandra Eckard and Dr. Holly Wells and they've just been fantastic throughout the whole program," Steffy says.  Wells, who taught a course called Seminar in Professional Writing Styles and Approaches, and Eckard, Steffy's thesis advisor, encouraged her to broaden her writing endeavors and develop strategies for overcoming the challenges of writing.
After years of helping other writers at Crave Press and as an adjunct professor, Steffy is expanding her own avenues, including looking into writing for professional journals and perhaps even wading into fiction.
"For a long time while I was developing professionally as a librarian and I was helping other people with their writing, I was putting a lot of my own writing interests on hold," she says. "So by being in this program it has kind of lit a fire in me."
Her master's thesis could not be more timely. Entitled "Do No Harm: Ethical Reporting of Health News," the thesis looks at the way the media reports on health issues and how the public understands such issues. Steffy's thesis topic was approved before the coronavirus pandemic hit.
"It examines the ethics of reporting health news out of context and how this practice has primed our country for the 'fake news' era," she says. "It is getting very hard to determine what news is credible especially since it is often colored by commentary related to a certain side of a political issue."
The thesis looks at how that reporting relates to the public's trust – or lack of it – in science and in media. She hopes to submit her research to a professional journal for publication.
Steffy's academic pursuits are a testament to someone who considers herself a lifelong learner. She earned two bachelor's degrees from Kutztown University, one in speech communications and a second in English/professional writing. She also has a master's of library and information science from Rutgers University.
When Steffy and her husband Dave, who is also a writer, were looking for a name for their publishing company, Steffy's mother came up with "Crave" as a cross between Christina and Dave. "It works on different levels – our names and if you're craving a good book," Steffy says.
She counsels would-be authors: "Make sure before you start pitching your work to publishers and agents, do your homework and understand the industry."
And then she offers advice she has lived by: "Don't be afraid to take chances and try something new."
---
---