Biology Professor, Student Witness Rare 'Aleutian Magic' on Research Voyage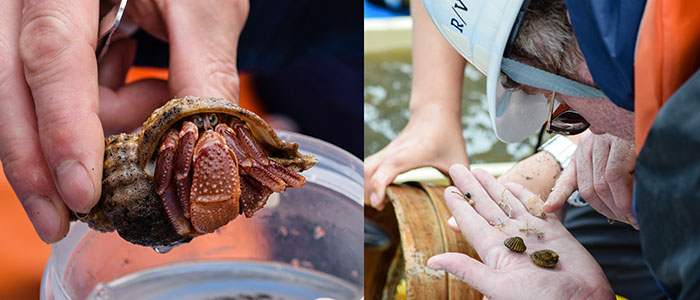 Posted by: Elizabeth Richardson on September 7, 2017, No Comments
There are veteran marine scientists who never get to see what's called "Aleutian Magic" – a sudden feeding frenzy of humpback whales and sea birds in the Bering Sea near the Aleutian Islands south of Alaska. East Stroudsburg University junior Leah Bergman and Associate Professor of Biological Sciences Jay Hunt, Ph.D., saw the phenomenon twice while on a three-week research voyage this summer.
Aleutian Magic starts when large swaths of nutrients rising from the ocean's bottom are eaten by plankton, then the plankton are consumed by krill and fish, which in turn become prey for a herd of whales and teeming flocks of sea birds.
"You see these swarms of hundreds of thousands of birds coming in and just diving into the water to eat the fish," Bergman said.  "And then the whales come and you see all these whales just breaching and blowing. It was absolutely beautiful. I'll never forget it."
The first time they saw it was on the initial day of the trip in early August and Hunt estimates there were 50-100 whales feeding in groups, as well as countless numbers of seabirds.
"I've been going to sea for 30 years and I can't remember seeing anything like this in my lifetime," Hunt said. "If you looked out on the horizon, it was just black with seabirds."
The voyage was aboard a research vessel run by the Japanese Agency for Marine-Earth Science and Technology, known as JAMSTEC. Funded by the Japanese government, JAMSTEC scientists were looking at the effects of climate change on marine life in the Bering Sea around the Aleutian Islands. The area is known as a "biodiversity hotspot."
Hunt, an oceanographer who specializes in studying jellyfish and cephalopods such as squid and octopuses, was invited on the cruise by JAMSTEC's chief scientist, Yoshihiro Fujiwara, who allowed him to bring Bergman, a marine science and biology major, to take part in the research.
Bergman had shown great interest in deep-sea ecology and had gotten a grant from the Barnegat Bay Foundation to study flat fish, such as flounder, in their habitat on the Jersey shore.
"She's a very motivated person," Hunt said.
That motivation was important because the daily schedule aboard the ship was demanding. Hunt and Bergman worked with scientists from Japan and Europe using underwater cameras to record hundreds of hours of deep sea life as well as other instruments for collecting data such as ocean temperatures and chlorophyll amounts. The shifts were eight hours on and eight hours off, with sometimes just a few hours of sleep a day.
Hunt will be sharing his data with other scientists on the trip and expects some of the findings to be published in international scientific journals.
"We probably have six to 18 months of pretty grueling analysis to really go through the data," he said. There might be an opportunity for other ESU students to help with that analysis.
"This cruise is part of a larger international effort and anything that gets published, if we're part of it, ESU's going to have its name alongside," he said.
At age 20, Bergman was the youngest person on the trip and proved to be a worthy addition to the scientific contingent.
"She did fantastic," Hunt said. "I asked her to just stay alert and jump in when she was able to do it. Once people realize you're capable, they'll start giving you more trust and more responsibilities. She worked hard and she was there when people needed her."
In addition to aiding Hunt, Bergman worked mostly with a German scientist researching plankton and a French scientist studying organisms in the ocean sediment.
"I had to build up the trust a little bit but by the end everyone knew that I was serious and that I knew what I was doing," Bergman said. "I am really thankful that I got to do this."
Hunt worked for JAMSTEC in Japan 1996-2001 and has gone on research cruises with the organization about every two years since then. His research focuses on how changes in ecology influence the way organisms, such as jellyfish, alter their behavior and change their migration patterns.
Meanwhile, scientists hope to figure out why the Aleutian Magic happens when and where it does.
"One of our goals of the study is to figure out what's causing these events," Hunt said. "You have these moments in your career where you realize you have a professional duty and you're trying to record as much data as you can as a scientist. But there also are these times you just get to stand back and realize that you're in a very fortunate position to see something so few people get to see. And if you're doing it correctly, in between the science you should be appreciating the beauty and wonder of nature."
---
---