College of Business and Management Senior Feels Home at East Stroudsburg University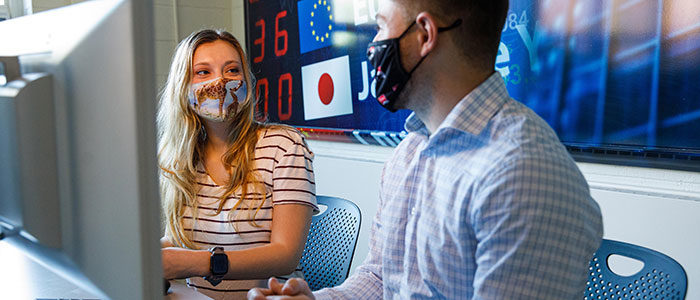 Posted by: Elizabeth Richardson on December 14, 2021, No Comments
Lauren Tagliaferri was in ninth grade when her family moved from East Stroudsburg, Pa. to New York City. At first, she didn't like the big city, but eventually she acclimated and excelled in her new environment. But, deep down she knew the Pocono Mountains were her home. When it came time to think about college, she knew she wanted to be home, and she applied and was accepted to East Stroudsburg University.
"So many people shrug off their hometown college. But honestly, I think ESU is great," Tagliaferri said. The senior accounting major is set to graduate this December with a bachelor's degree and will return to ESU next semester to pursue her master's degree. "I know a lot of people pick grad schools with 'big names,' but the program at ESU is really great. There is no need to look any further than right here for what I want."
Tagliaferri is currently the vice president of the accounting association, a student organization on campus that helps connect students interested in accounting with additional knowledge and resources that supplement their classroom learning, she was a student ambassador for the College of Business and Management Crayola Executive Lecture Series, and was a student speaker at an Open House event on campus. These experiences allowed her to expand her knowledge, network with professionals, and grow as an individual as she prepares for the future.
As a student ambassador for the Crayola Executive Lecture Series, Tagliaferri had the opportunity to escort Phil Wenger, CEO of Fulton Financial Corporation, around campus. "It was a really cool experience to talk with someone in such a high position," she mentioned. During the Open House, she talked with prospective students about her experiences as an ESU accounting student. "I used to be so introverted," Tagliarerri said, "but I've grown so much during my time here. Now I can speak in front of a class, and to large groups." She credits her leadership position with the accounting association and the people she's surrounded herself with on campus for this growth.
Tagliaferri feels confident that she'll be ready to hand her resume to potential employers when the time comes. With ESU's College of Business and Management, she worked with the Pocono Mountains United Way to provide free tax preparation assistance to income-eligible taxpayers during the 2020 tax season. She also learned, through the accounting association, how to think about non-accounting experiences, show on a resume how those experiences can be relevant to the accounting field. "You can put an 'accounting spin' on so many different jobs if you know how," Tagliaferri said. "I'm a babysitter. During a resume workshop we had, I learned how to write my resume to show that this job, which is a huge responsibility to take care of children, helps me with organizational skills, for example. I can explain now, how that has prepared me to work in accounting."
Tagliaferri hopes to become a Certified Public Accountant and a forensic accountant. But, for now, she is just happy to be learning in a place that she feels completely at home.
---
---